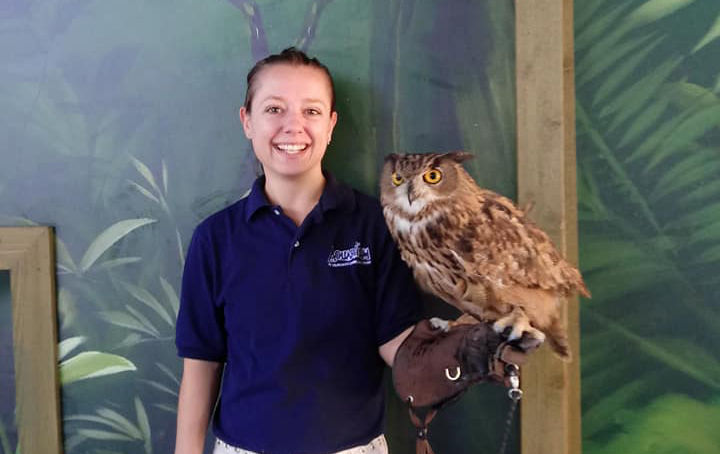 MEDIA, Pa. — For Penn State alumna Dana Piatt, earning a bachelor of arts degree in psychology at the Brandywine campus was a key step to becoming an animal trainer and achieving a career dream she held since she was six years old.
"I've always loved animals since I was very, very young," Piatt said. "We went to SeaWorld for the first time when I was about six and my mom tells me we saw the Shamu show and I turned to her and said, 'That's what I want to do when I grow up.' The whole time I was going through elementary school, middle school, even into high school, I was like, 'I'm going to go be an animal trainer and do all this stuff.'"
When she was 15, Piatt, her mother and brother drove cross country to California to visit Moorpark College, which offers a competitive animal training program that includes caring for animals at the campus' zoo. She later attended Moorpark and earned an associate's degree in exotic animal training and management.
Piatt said many animal facilities either require or prefer a bachelor's degree, and as she looked at potential schools Penn State was a natural choice — her father and brother are graduates and her mother is a longtime Penn State Wilkes Barre employee. And the Brandywine campus offered the psychology degree she was seeking with the added benefit of proximity to the Philadelphia Zoo, where Piatt completed internships.
Psychology is a preferred degree for animal training because of its focus on behavior, Piatt said, noting that many human aspects of behavior can be applied to animals as well, especially with positive reinforcement training.
"Our training is done with positive reinforcement training and that comes up a lot in either cognitive psychology or the principles of behavioral psychology, and that is what's in our mind as we're working through it," she said. "So it's always a cause and effect. If the animal does what we ask it to do, we give them positive reinforcement. Usually it's food. Our armadillo also really likes scratches, so scratches can be really reinforcing for him."
"And if an animal doesn't do what we want it to do, we'll just give it a slight pause," she said. "We're not going to yell. We're not going to taunt with food. We're just going to reset and we'll try again."
After three years at the Audubon Nature Institute in New Orleans, Piatt has been a bird and mammal trainer at the Downtown Aquarium in Houston for the past year, working with a variety of species, including parrots, a sloth, an owl, a buzzard, an armadillo, a cerval and white tigers.
"The job varies day to day because with animals, nothing's usually the same," she said. "We rotate through all the sections throughout the week. Our morning routine includes cleaning and preparing diets and in the afternoon we do a lot of training."
Under normal circumstances, the trainers also work with the animals for public meet-and-greet sessions and educational programming.
Piatt said one of the most rewarding aspects of the job is working with animals every day, especially in the initial stages of the trainer and animal learning about each other.
"Right now, I'm lucky to be working on a recall behavior with our two green-winged macaws, where if they go somewhere we don't want them to in the bird room, or if they climb out on top of their enclosure, if I make a recall sound, they should climb back into or walk back to their enclosure and go up to their station," she explained. "And then they get reinforced very heavily for it. I've been working on that for a few months now, and both of them are progressing very well and making good strides with it. So that's been very rewarding."
Piatt, who graduated in 2015, said her experience at Penn State Brandywine helped prepare her for her chosen career.
"I was able to take something that was kind of outside the normal realm of what people go to psychology for and have it apply to what I wanted to do after graduation," she said.
Active on campus, Piatt was an orientation leader and involved with student government and the events and activities team.
"I liked how smallish the campus felt," she said. "They put on great activities, they brought in great performers and made sure that there were things to do on campus."
Piatt stays flexible about where her career might take her.
"I would really like to work with marine mammals in some way, at some point in my future. So that is definitely on my mind as being part of my career goals," she said. "But I never thought I would work with an aardvark, and then working with an aardvark was a really awesome, cool experience. I'm glad I never was like, 'No, I don't ever want to work with an aardvark,' because I would've missed out on something. I try to keep my mind open and my prospects open about what I want to do and whatever may come."