Over Thanksgiving break, 18 students and two faculty members embarked on an educational journey through London, England as part of Penn State Brandywine's Global Programs. The students took courses, completed projects that required them to explore the city on their own or with their peers and even interacted with the locals.
Under the instruction of Assistant Professor of Business Administration Don Taylor and Instructor Vippy Yee, students studied international capital markets, international business, civic and community engagement and urban sociology.
For his Special Topics in International Business course (FIN 456), Taylor said his class visited the London Metals Exchange, the Bank of England, CME Clearing Europe, Sotheby's and Barclay's Capital Markets Group.
"There was a presentation at each location where the institution explained its role in the financial marketplace and its operations," he said. "An economist at the Bank of England explained the bank's role in promoting monetary stability. At Sotheby's the class attended an auction on European paintings and heard a presentation from one of Sotheby's rare books experts, who showed the class a rare sixteenth century book published posthumously by Nicolaus Copernicus that included a diagram of the planets revolving around the sun. The book sold at auction for £825,000 or about $1,300,000."
Taylor explained that one of his course requirements was that his students keep a journal of their visits, "explaining the role each institution plays in the international marketplace."
 
But it wasn't all work and no play. Students got a rare glimpse of London (a 25-mile, 360-degree view to be exact) from atop the London Eye, visited Buckingham Palace, the Tower of London, the winter carnival at Hyde Park, the Roman Baths, Windsor Palace and Stonehenge. They even shopped at Fortnum & Mason, Harrods and the popular London markets. 
"A group of students extended their pinkies at high tea," Taylor observed, while "some students took a day trip to Stratford-upon-Avon where they toured Shakespeare's birthplace and attended a performance by the Royal Shakespeare Company."
Sophomore Tran Do studied Urban Sociology (SOC 15), led by Yee, and as part of an assigned multi-media comparative project, Do explored the differences and similarities between London's Chinatown and the one in San Francisco, Calif., where she lived until she was 15.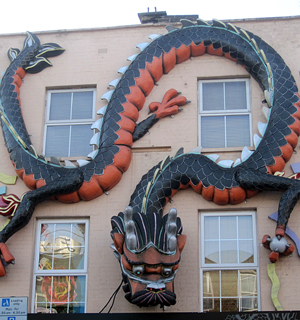 "London was everything I had expected, and then some," she said in a blog post she wrote for the campus about her experience. "Before traveling to London, we were required to read articles and books and watch a number of short videos that compared London to Philadelphia. We were then tested on what we learned prior to leaving the States and again upon our return. While exploring the city, I witnessed firsthand many of the things talked about in the readings and videos.
"Going on this abroad program forced me to step outside of my comfort zone, from interviewing strangers for my project to finding my way around London with only a map and a Tube pass. Without a doubt, this trip was remarkable and it opened my eyes to what life is like in Europe."
Visit http://pride.bw.psu.edu/blog/ to read Do's first-hand account of her experience in London on the Brandywine Blog. For more information on Penn State Brandywine's upcoming programs to Barcelona in March and Vienna/Prague in May, visit http://bit.ly/globalprograms online.