Theresa Walls, staff assistant in the IT Department at Penn State Brandywine, brought cheer and a taste of home to her nephew, Mark Smith, and his fellow Marine recruits by baking chocolate chip cookies for them over the holidays. Smith is stationed at Parris Island, S.C. and is in his tenth week of boot camp training.
Walls' sister, Cathy Smith, decided to make some cookies for her son and his platoon. So at the end of December, family and friends gathered in an industrial-size kitchen to bake 1,200 cookies - that's a dozen cookies for each recruit and extras for their instructors.
It took four hours for ten of them to make the chocolate chip cookies, and Walls and her sisters wore aprons that belonged to their late mother and great aunt, which brought back joyful memories. "It was a happy occasion," Walls said. "While making the cookies we laughed and talked about family traditions and said that our parents would be so proud of us."
The recruits received their treats on Christmas Eve and in true boot camp fashion, were told by their drill sergeants that they had to eat every last cookie in one sitting without anything to drink.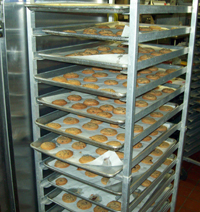 Cathy Smith and her husband, Jim, received a note filled with thanks from the recruits:
"The cookies were amazing. Thanks for your support and thoughtfulness."
"The platoon thanks you all. The chocolate chip cookies in each bag brought a smile to everyone."
"Thanks for the cookies. They were better than the ones at the mess hall."
"Thanks for thinking of us and sending us cookies. Merry Christmas."
"Thank you for the cookies. They were really good and a nice reminder of being home for the holidays. Thanks again for taking the time to bake all of them."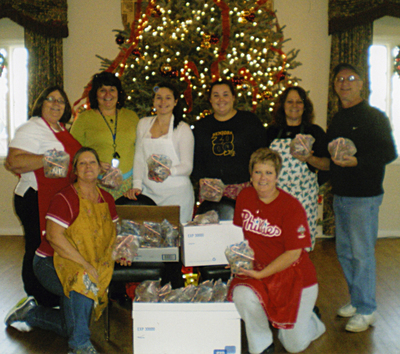 Theresa Walls and her family with the bags of cookies ready to send to the Marine recruits at Parris Island.
Front row, left to right: Sharon Dawson and Marie Digerness. Back row: Theresa Walls, Rhonda Coleman, Brooke Coleman, Ashley Digerness, Cathy and Jim Smith (Mark's parents). Photo credit, Don Smith.
Smith will graduate on January 20 and his family will be there to celebrate his achievement. "I'm looking forward to seeing him again, and I'm very proud of his accomplishment," Walls said.
-by Theresa Walls