The unthinkable happened in 2006 when Kathy and Pat Meehan's son, Shawn, died at the age of 24 after a yearlong battle with leukemia.
Shattered by their loss, they were embraced by family and friends, including Kathy Meehan's colleagues at Penn State Brandywine, where she is senior instructor in human development and family studies (HDFS). "The campus community came together for us in an amazing way," she remembered.
Shawn, a network engineer, had a lifelong fascination with technology, rocketry and astronomy. In 2003, he took what would be the trip of his lifetime: six weeks "to visit every air and space museum he could find across the country," Meehan recalled.
Now, six years later, the Meehan family has bid another farewell to Shawn. On Tuesday, May 22, his ashes, which were enclosed in the Dragon capsule along with the remains of 307 other civilians, hitched a ride on the Falcon 9 rocket on its way from the Kennedy Space Center in Cape Canaveral, Fla. to the International Space Station.
The remains of James Doohan, who played Scotty on the 1960s television series "Star Trek," as well as Mercury program astronaut Gordon Cooper, were also on the flight, according to ABC News and Reuters.
Under an agreement between the spacecraft's builder and Celestis, a company that, according to its website, books memorial spaceflights to "launch a symbolic portion of your loved one's cremated remains into ? space," the ashes were contained in the rocket's second stage, which separates from the capsule just minutes into flight.
When Meehan first learned of this unique opportunity, she had an "aha" moment.  "Shawn would think this is absolutely awesome," she said. It was a five-year wait until the Celestis Earth orbit flight was launched.
The Falcon 9 rocket craft, privately owned by the company Space Exploration Technologies, or SpaceX, was previously scheduled to launch May 19 at 4:55 a.m. The families of the "participants" were invited to attend. Two hundred families from around the world, including the Meehans, gathered in Cape Canaveral to watch. However, the launch was aborted when an engine nitrogen valve problem was detected.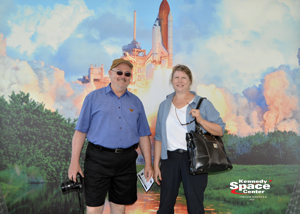 Pat and Kathy Meehan
This was quickly repaired and the launch was rescheduled for 3:44 a.m. on Tuesday, May 22, and this time it went off without a hitch. The Meehans, who had already left Florida for a conference in Los Angeles, watched the launch on NASA television just 20 minutes from SpaceX Mission Control in Hawthorne, Calif.
SpaceX, the brainchild of PayPal co-founder Elon Musk, is the first commercial company and non-governmental rocket to attempt to land at the International Space Station. Until the successful launch on May 22, only three countries—the United States, Russia and China—had sent a capsule into space.
"It's been fun to follow a tiny start-up company that builds rockets," Meehan said. "This launch is historic and opens up a whole new world of space travel."
The capsule, carrying supplies for the crew of the Space Station as well as experiments designed by students, is expected to dock with the space station on Friday, May 25. It will remain connected to the station for approximately 10 days, giving astronauts time to unload the supplies and replace them with scientific equipment for the return to Earth.
The second stage, in which Shawn's ashes remain, is expected to stay in orbit for about a year before falling back toward Earth and burning up on re-entry.
Meehan is comforted by the notion of Shawn traveling through space. "And when he comes down," she said, "he'll be a shooting star."
Pat Meehan added, "We are pleased the sky is no longer the limit for Shawn."