Penn State Brandywine has a lot to celebrate, as several of its outstanding community members--junior Bobbi Caprice, retired Assistant Professor of Kinesiology Dan Doran and Tennis Coach Lloyd Vernon--were honored with prestigious awards by the Penn State University Athletic Conference (PSUAC) at its annual Awards Luncheon May 21.
The campus' athletics program, as well, was recognized.
Caprice, a member of the women's volleyball and basketball teams at the campus, received the 2011-2012 John S. Egli Award, which is presented annually to outstanding male and female scholar athletes in the PSUAC.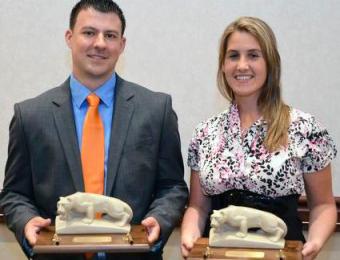 Bobbi Caprice, right, with Dereck Burdick (PS Dubois Senior and Men's Egli winner)
Caprice is an academic and athletic standout. She has been involved on campus in a variety of positions ranging from fitness center employee, vice president of the Student Government Association to being a member of the Executive Board of the Lion Ambassadors. She is the "go-to girl" on campus when help is required.
Caprice has been a three-year starter and two-year captain on the women's basketball team, a spirited member of the volleyball team and a cross-country runner during a season when the team needed members to fill its squad. She was an Academic All-Conference athlete for her first three years on campus and was recognized this year by the United State Collegiate Athletic Association (USCAA) for National All-Academic Team honors.
From the campus she has also received a number of awards, including the Campus Service Award, the Michael Menichini Scholarship and an Academic Recognition Award. Caprice is the second female athlete at Brandywine in a row to receive the Egli Award.
Brandywine Athletic Director Jim Gastner had high praise for Caprice. "Bobbi is one of the finest young women I have had the pleasure to get to know and work with at Penn State Brandywine," he said. "Brandywine Athletics is so proud to have her call Brandywine home and cannot wait to see what incredible things are to come!"
After 40 years of service to Penn State Brandywine, Doran has been recognized with the Robert J. Scannell Roll of Honor, presented annually to an administrator, faculty or staff member or coach who has served the PSUAC or campus athletic, intramural and recreation programs with distinction.
The Robert J. Scannell Roll of Honor is the highest award given by the PSUAC. Doran began his career at Brandywine teaching multiple courses that ranged from volleyball and swimming to judo, camping and bowling. He served as head coach for intercollegiate soccer, women's basketball, women's volleyball and swimming early in his career before becoming athletic director in 1974. He also served as intramural coordinator, athletic rep, college rep, University faculty senator and as a chair on the faculty senate.
"Dan has been an incredible asset to the campus and a mentor to countless students, athletes, faculty and staff during his career at Brandywine," Gastner said. "Dan is an outstanding representative of Penn State Brandywine and truly shows what it means to be Penn State Proud! We congratulate him on this honor and thank him for all he has done."
Brandywine Tennis Coach Lloyd Vernon was honored as Tennis Coach of the Year.
Vernon's team was undefeated in the regular season and won the PSUAC Championships held in October at University Park. This was déjà vu for Vernon, who won the championship as a student athlete in the late 1970's.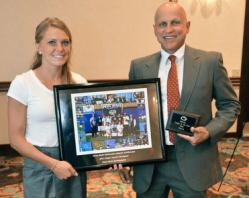 Lloyd Vernon and Brooke Jacobs (PSUAC sports information director)
Penn State Brandywine received one final award to acknowledge the success of its entire athletic program. The Chancellor's Cup recognizes the campus that has the greatest number of successful teams as measured by final league standings, playoff appearances and championships. Brandywine finished second this year and received a plaque to commemorate the accomplishment.