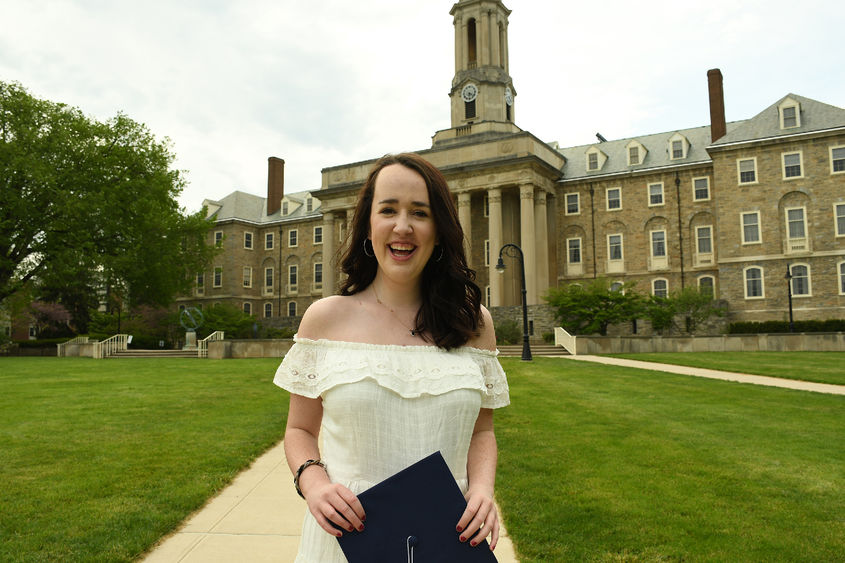 The correlation between journalism and child development may seem minimal to many, but that's exactly what Penn State graduate Annie Ward researched for her Schreyer Honors College thesis while earning her bachelor's degree in journalism.
Her thesis, titled "Raising the Media Generation: How Web-Based Media Influences Adolescent Development," examines how web-based and digital media, such as social media, television, streaming services (like Netflix) and video games change the way adolescents perceive and conduct themselves. Ward focused on the developmental period of 10 to 19 year olds for her project.
"While technology can improve the educational development of young children in many ways," Ward said, "some technology can also have negative impacts on adolescents as they grow."
Ward explained the average American adolescent spends roughly seven and a half hours consuming media each day, in addition to academic-related media. While mobile devices and web-based media have many benefits, the effects of media consumption can differ for younger users, as today's adolescents are experiencing added pressure from social media.
"When users are younger, they neglect to consider the manipulation that many photos and advertisements undergo prior to being published. This can impact their mental health and development as they age," Ward said. "Adolescence is a fragile time in development where children begin to develop their own sense of identity. Individuals begin the search to find and understand themselves, continue to develop their self-esteem and discover where they fall within society."
"Dr. Zosh was one of the best professors I had during my time at Penn State. She was more than just a teacher—she was a mentor."

—Penn State graduate Annie Ward
Ward, who completed the first two years of her degree at the Brandywine campus before transitioning to University Park, took her first college course with Associate Professor of Human Development and Family Studies Jennifer Zosh. It was that course that sparked Ward's interest in media and psychology.
"Dr. Zosh was one of the best professors I had during my time at Penn State," Ward said. "She was more than just a teacher—she was a mentor. Throughout my thesis, she always made herself available and was willing to help me in any way she could."
"Annie was a joy to have in my freshman seminar course," Zosh added. "She brought tremendous energy and was such a positive influence on the entire class. We explored the impact of technology on individuals, relationships and society. This is a topic that the entire class had strong opinions about and one of my goals was to help them explore this topic not solely from personal experience, but to dive into some of the theoretical and experimental work done in this area."
Ward explained that she was always interested in psychology, human development and social science, but ultimately those fields weren't the right career path for her. However, her thesis gave her the ability to "blend my interest in social science with my passion for communications," she said.
"When Annie transitioned to University Park, I thought that my ability to support her work would cease," Zosh said. "I was beyond excited to hear from Annie as she developed her research topic and worked on surveying the literature. This gave me a new way to support students and speaks to the fact that even when students leave a campus, they still have a 'home' here."