Fundraising for this year's Penn State IFC/Panhellenic Dance Marathon (THON) kicked off last Friday with the first canning weekend, and Penn State Brandywine Benefitting THON raised more than $2,800. Sophomore Finance Major Chris Kramer says this weekend was a great start to what he hopes to be a record breaking year for Brandywine THON. 
THON is a year-long fundraising and awareness campaign to fight pediatric cancer. It is the largest student-run philanthropy in the world, and engages more than 15,000 Penn State students across the Commonwealth of Pennsylvania.
The year culminates with a 46-hour no-sitting, no-sleeping dance marathon known as THON Weekend, held at Penn State's Bryce Jordan Center each year in February. In 2012, THON raised a record-breaking $10.68 million and was able to donate 96 percent of funds raised directly to benefit the Four Diamonds Fund, which picks up where insurance leaves off, relieving families of the financial burden at a time that should be spent focusing on the child's health and treatment. 
In addition to future canning weekends throughout the year, Brandywine's THON committee is planning several events to raise money for the Four Diamonds Fund to fight pediatric cancer. "We are very excited to begin collecting money for THON. With all of the events planned, we know this is going to be a great year," says Junior Co-Overall Kayla Csizmazia.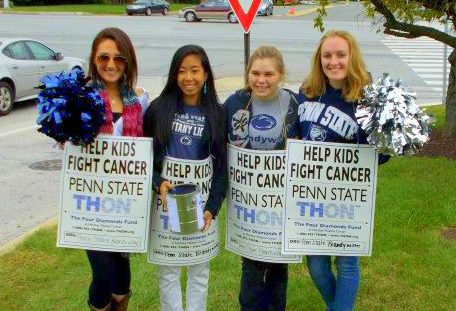 Left-right: Brandywine students Megan Gilroy, Julie Tran, Kaitlin Fail-Murphy and Kayla Csizmazia.
A Faculty and Staff Dress Down Day is scheduled for Tuesday and Wednesday, Oct. 9-10, and Dining to Donate will take place at Ruby Tuesdays at the Springfield Mall on Thursday, Oct. 18 from 5-8 p.m.
Canners will be looking for donations at Penn State Day on Oct. 20 which falls during Canning Weekend #2. Donations can also be made during the annual Red Cross Blood Drive on October 23 and the Annual Trick or Treat Halloween Candy Sale from October 29-31. 
For donors wishing to further our campus effort, Penn State Brandywine Benefitting THON's organization number is 51, and donations can be made anytime through February 16 at http://www.thon.org online.