Gedion T. Teklegiorgis, a 1998 Penn State graduate, has come a long way--literally and figuratively--in his 38 years. Born in Eritrea, a tiny African country bordering Ethiopia, Djibouti, the Sudan and the Red Sea, Teklegiorgis witnessed much political strife during his early childhood. To avoid the bloody civil war conflicts his family moved frequently. They eventually walked for 14 days--mostly at night--to reach the safe haven of the Sudan, where they lived for eight years before immigrating to the United States in 1988. In a recent interview he described his ordeal, his Penn State pride and his brilliant military career.
During the 1970s when Teklegiorgis was just a young boy, Eritrea was in the midst of a 30-year war of independence--fighting with Ethiopia as well as warring factions of nationalists. His family lived in constant fear that their father would be taken away.
"This is when the family started moving around to stay away from all the conflicts. The communist government was targeting educated Eritreans; my father was a missionary and teacher and that put him on the (hit) list," reminisced Teklegiorgis. "I can remember when my mother would hide us under the bed or take us out to the farms during daytime and at evening time coming back to the house ? My father used to hide outside in the mountains during daytime. Sometimes he would come see us at nighttime. But then things got really bad and he had to totally separate from us."
With the political situation continuing to deteriorate throughout the 1970s, the Teklegiorgis family had no choice but to leave Eritrea for good. They walked for two weeks until they reached The Sudan with little more than food, water, baby pictures and the family bible. When political unrest began to arise in their host country, they moved again, this time to the United States. In 1988, the family of seven landed in Philadelphia with only 50 dollars in their father's pocket.
Teklegiorgis recalled how tough it was to attend school in America without speaking English. "That was a tough year ? no English ? a lot of sleepless nights. All I could do was sit in the back of the class and smile at the teacher because I didn't want to be rude because I didn't understand him. I remember the teacher complained to my father, 'Why does your son always laugh and smile at me when I look at him?' And my father tried to make an excuse and said, 'Maybe it's because his teeth are too big for his lips to close,'" Teklegiorgis laughed out loud. Decades later, Teklegiorgis is still smiling--a habit now, he claims--and is well-known for his bright and contagious grin.
Teklegiorgis began his college career at Penn State Brandywine in 1993. Still needing help with English as a third language, Teklegiorgis took full advantage of the Learning Center on campus. He spoke highly of the people at Brandywine and he credits much of his success today to the caring learning environment of the suburban Philadelphia campus.
"At Brandywine, you felt like you were at home--the teachers, the staff--you felt like you were among your family," said Teklegiorgis. "It was a very comfortable place. You could really spend time with them. It gave us (his sister Eden also attended Penn State Brandywine at the same time) comfort; it took away the nervousness that we had. We were afraid to start (college) because we didn't feel comfortable with our English; our confidence level was not that great. They understood where we were coming from and they did everything in their power to give us the boost that we needed at the time. I think if there had been even a little bit of a hiccup when we started out we would not have continued because we were already scared. We really needed the right people to give us that boost to continue on. That's something I will always  treasure."
Continue on he did, earning his bachelor's degree in secondary education with a minor in history. Although he finished his degree at University Park, it was "home" at the Brandywine campus, where he walked during the 1998 commencement ceremony.
Wanting to assimilate into American culture as quickly and easily as possible, Teklegiorgis followed the advice of an uncle and enlisted in the Navy in 1999. Ironically, he was shipped-off to Iceland right after boot camp. He quickly moved up in rank and entered officer candidate school. With much pride and motivation, doors were opening for Teklegiorgis due to his college degree, knowledge of five languages (native tongue, Arabic, English, Spanish and French) and his military training. "For a foreign born child ? as people say 'live the American dream' I was really living it," enthused Teklegiorgis.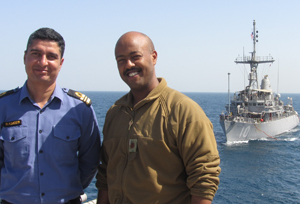 Teklegiorgis at sea onboard the USS Ponce with Pakistani naval officer.
He continued his education and earned a master's degree in international affairs from the Naval Postgraduate School in Monterey, Calif. He currently lives in Bahrain with his wife and three young children. Still with the Navy, Teklegiorgis works as a staff officer and department head at Mine Counter Measure Squadron Five NAVCENT and utilizes his foreign language knowledge. He recently participated in the International Mine Countermeasures Exercise 2012 (IMCMEX 12). This at-sea mission involved militaries from approximately 30 nations--spanning four continents--in a defensive exercise designed to preserve freedom of navigation in the international waterways of the Middle East and to promote regional stability. In September he was selected for the Foreign Area Officer program. Beginning in 2013, Teklegiorgis will be working as an attaché (foreign military adviser) in the Middle East.
Teklegiorgis has come a long way from that young refugee who could only smile at his school teachers because he didn't understand a word of English. He credits Brandywine with helping him get to where he is today.
 "At Brandywine you start to say, 'I can be somebody here in this country,'" he said. "Now I am not just surviving, but thriving."