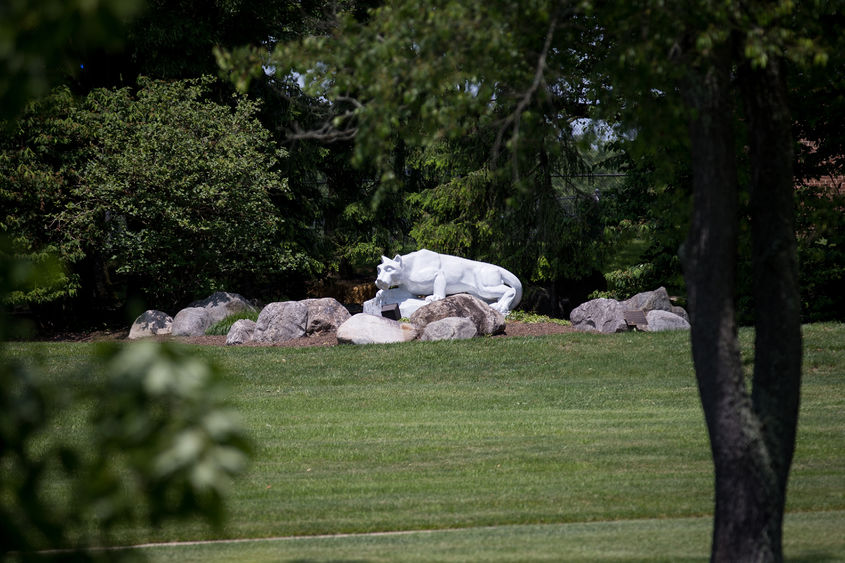 MEDIA, Pa. — Penn State Brandywine has announced its annual faculty awards, which recognize the achievements and excellence of campus faculty as educators, researchers and mentors.
"Our award recipients share a passion for education, a commitment to student engagement and a strong desire for collaboration with colleagues," said Chancellor Marilyn Wells. "They have distinguished themselves in their teaching, research and service to our campus and our students."
Christina Olear, lecturer in accounting, and Joshua Phillips, assistant teaching professor of communication arts and sciences, received the Excellence in Teaching Award, which recognizes faculty members who make an outstanding contribution to the students on our campus through exceptional teaching.
Olear's students said she "is engaging, fun and keeps the class excited" and "is very passionate about the subject material she teaches, and her excitement is infectious in the class."
Philip's students said he "always leaves me feeling extremely motivated and makes me feel so knowledgeable about his lectures" and he "made an impact in how I approach daily situations and also how I reflect on previous thoughts and actions."
Valerie Mendez-Gallardo, assistant professor of psychology, received the George W. Franz Advising and Mentoring Award, which honors and recognizes faculty or staff members who have excelled in mentoring others through advising, facilitating, encouraging and/or paving the way for others to recognize and realize their potential in their personal and professional endeavors.
The awards committee said Mendez-Gallardo "is among the most dedicated mentors and student advisers, not just within the psychology program, but on the entire campus. In the classroom, she takes an interest in every student, and wants to understand their goals and the challenges they have faced getting to and through college."
Stephen Cimbala, distinguished professor of political science, received the Madlyn L. Hanes Faculty Award, which recognizes a full-time faculty member who has made an outstanding contribution to the campus community through exceptional achievement in teaching, research, scholarship, creative activity, or service.
The awards committee noted that Cimbala "has made the case for nuclear arms control with considerable impact, not only among academics, but also among readers in the government and larger policy community. His commitment to international peace and nuclear arms control carries forward from his research into his teaching."
Margaret Signorella, distinguished professor of psychology and women's, gender, and sexuality studies, received the Undergraduate Faculty Research Award, which is presented to an outstanding faculty member for their involvement in undergraduate research.
The awards committee noted Signorella's involvement on a number of large projects with undergraduates, including leading a group working on longitudinal data set on children's and parents' concepts and attitudes about gender and race, and supervising two students as they researched and posted resources for the Teaching International web page.
Veronica Godshalk, professor of management, and Daniela Martin, associate professor of psychology, received the D'lorio Faculty Research Award, which honors and recognizes scholarly or creative excellence in any area of the arts, humanities, social sciences, natural sciences, engineering, business, or communication. It rewards a substantial series of contributions or a single exceptional contribution to any of these areas.
Godshalk's research focuses on career management and includes her recent book, "Career Management for Life," as well as journal articles and book chapters.
Martin has a 20-year record of research in social psychology that has made a wide impact in the fields of disability and culturally sustaining education. She designed and researched study abroad programs at Penn State to identify which student and school-factors produce optimal outcomes while engaging the wider question of what desirable outcomes mean in higher education.
Scott Glenn, instructor in business and economics, received the Teaching Award for Part-Time Faculty, which honors and recognizes a part-time faculty member for exceptional teaching, and provides encouragement and incentive for teaching excellence and contributions to the campus community.
Glenn has been teaching primarily economics and marketing courses since 2013. According to many of his colleagues, he is a dedicated professor, a dynamic presence and makes strong connections with his students in and out of the classroom. His students said "mundane subject matter was brought to life by his enthusiasm and creativity" and he "helped me learn so much, especially with his very informative and fun teaching style."
The faculty awards committee was chaired by Professor of Chemistry Michael De Rosa. Committee members were Professor of Economics John Baffoe-Bonnie, Associate Teaching Professor of English and Assistant Director of Academic Affairs Patricia Hillen, Associate Professor of Psychology Daniela Martin and Assistant Teaching Professor of Mathematics Marina Skyers.