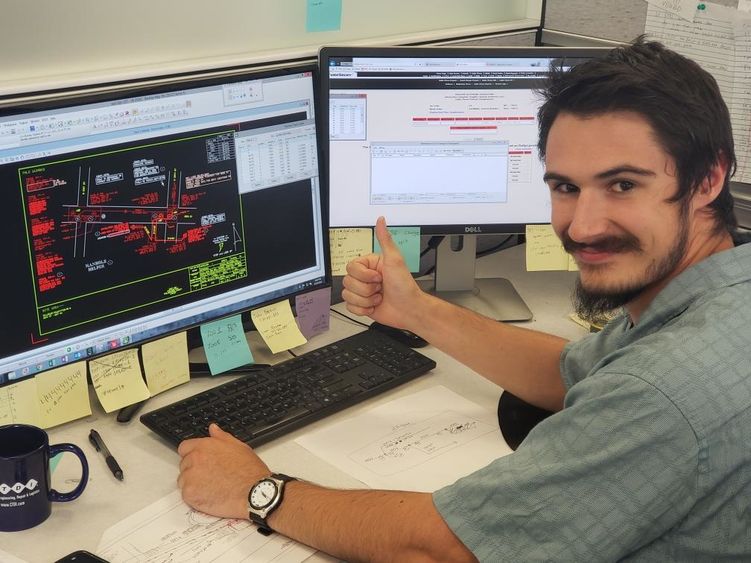 MEDIA, Pa. — While earning his bachelor's degree in engineering at Penn State Brandywine, Christopher Guay wasted no time actively pursuing part-time job opportunities in his field. Guay's professional experience paid dividends, as the May 2020 graduate quickly landed a position with the engineering firm M.C. Dean.
During his senior year at Penn State Brandywine, Guay had worked part-time as an outside plant drafter for Communications Test Design Inc. (CTDI), a global engineering, repair and logistics company with over 14,000 employees in more than 90 facilities worldwide.
"CTDI prepared me for my new job through considerable professional exposure and experience in designing and implementing service delivery solutions, which will parallel much of my work at M.C. Dean. My work at CTDI also made me think a lot about my career direction and focus," he said.
One of the most important skills he learned as an outside plant drafter was "interpretation and communication." In his role at CTDI, Guay worked with approximately 40 different internal and external engineers. Having the ability to understand and explain complex subject matter was a key requirement for success and will continue to be in his new role.
Guay will start his career with M.C. Dean later this month as a security electronic system engineer. According to its website, M.C. Dean designs, builds, operates and maintains cyber-physical solutions for the nation's most recognizable mission-critical facilities, secure environments, complex infrastructure and global enterprises.
"I will be responsible for the design and implementation of building security systems which integrate into existing systems, following engineering standards and practices," he explained.
For the first 4 to 6 weeks, Guay will be located at the company's headquarters in Tysons, Virginia. Then, he plans to relocate to Florida to perform work for M.C. Dean in the Tampa area, a move he's excited about for many reasons.
"I have felt a pull to move south as long as I can remember," he said. "I have family in Florida and I'm an extremely passionate angler and have lusted after Florida's fishing opportunities for a long, long time."
Guay chose to pursue his engineering degree at Brandywine because it offered him "a well-rounded degree which prepared me for any number of career paths after graduation," he said. "Additionally, Penn State is well known for the quality of their engineering students, and I knew this would hold weight moving to the workforce post study."
When it came time to search for a career, Guay received significant support from the University. Brandywine faculty members were available to advise him throughout the job search process, and he even found the position through an engineering career fair last January at University Park.
"My professors were extremely helpful to me in navigating the efforts of starting my career," he said. "They also advised me on what to keep in mind while considering job offers and to think critically about what's important to me in my life and how it will influence my job search."
"I was fortunate enough to teach Chris in several courses and also to work with him on his capstone project," said Assistant Teaching Professor of Engineering Maria Evans. "He was an outstanding student and I have full confidence that he will be an extraordinary asset in his new position. I could not be prouder of Chris and his accomplishments to date. I can't wait to see how his career advances."