"Make sure your career supports your goals, not the other way around." This important advice was bestowed upon Penn State Brandywine's graduating class at its December 21, 2012 Commencement Ceremony by fellow Penn Stater and keynote speaker Mike Arata.
Arata, an Upper Darby native, reminisced on his Penn State days, while assuring the graduates that graduation was just the beginning. "The scoreboard is reset for all of you today," he said. "Your degree will always be one of your greatest achievements, but it is part of a bigger picture."
The United Airlines exec encouraged the graduates not to define their successes in life by the amount of their paychecks, but to instead search for happiness. "Be happy," Arata said simply. "If I look at everything around me and can't be happy, then shame on me." He later added, "I encourage you to find the small victories throughout your life."
Arata attended the campus for two years before earning his degree in aerospace engineering at University Park in 1991. He began working at United Airlines after graduation and has spent his career moving up the ranks. In his present role, Arata oversees the airworthiness and configuration of the fleet of more than 700 Boeing and Airbus aircraft for the world's largest airline. His team defines the technical requirements and modifications that ensure the aircraft and engines are maintained to the highest levels of safety and reliability.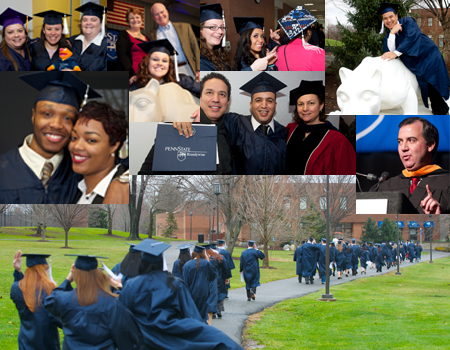 A few of the more than 80 newly minted Penn State alums had some words of their own to share with their loved ones at the ceremony as part of a long-standing Brandywine tradition allowing graduates to share their love and thanks at the microphone as they cross the stage to receive their diplomas.
"I want to thank my family for believing in me," said Wilmington, Del. native Jessica Romero, who received a bachelor of arts degree in communications. "This has been the best four years of my life."
Dollie Small, a resident of Philadelphia, accepted her diploma (she earned a bachelor of science degree in human development and family studies) and then congratulated her mother, who earned a college degree that same day. "I want to thank my mother, who graduated today, too, but decided to be here with me instead," she said.
Even faculty and staff at the campus received a few words of thanks from the graduates. Oxford resident Alex Della Ragione, who received a bachelor of science degree in information sciences and technology, said "I want to thank my faculty for providing me with an excellent academic experience."
To view and order Commencement photos, go to Third Eye Productions or call 215-635-1988.