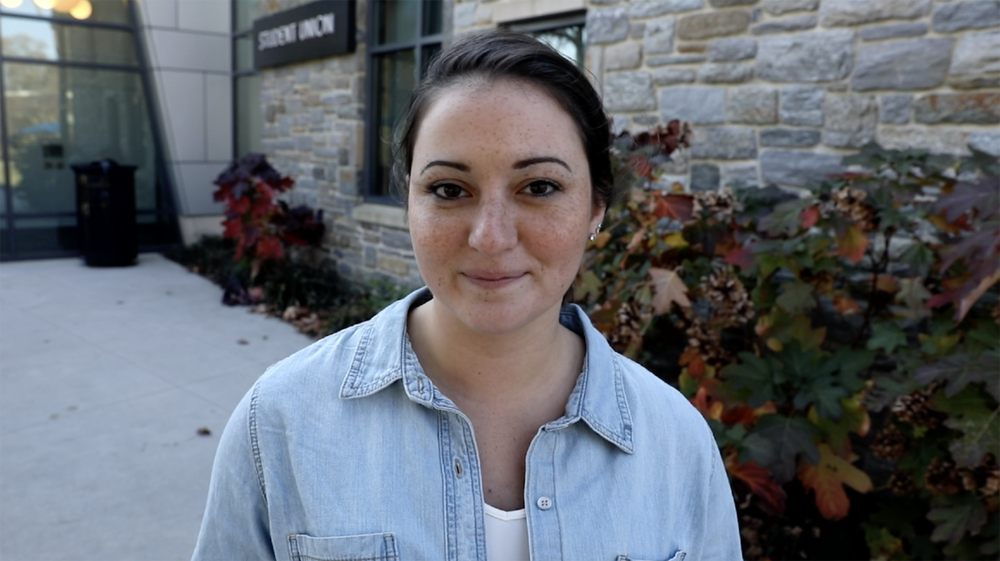 During her final semester at Penn State Brandywine, human development and family studies (HDFS) major and May 2020 graduate Carly Dill interned at the West End Neighborhood House in Wilmington, Delaware — an experience that gave her both a practical application of her studies and a clearer direction for her future.
According to its website, West End's mission is to "help individuals achieve self-sufficiency, reach and maintain their maximum potential, and live responsibly and harmoniously in a healthy community and complex world."
As a case management assistant in the education and employment department, Dill supported instructors, employment specialists and other case managers. She also managed the nonprofit organization's social media channels.
"You have to step up and fulfill so many different roles," said Dill. "I learned how to create connections, build rapport, and maintain professional relationships. Mental health is part of it too —advocating for my own mental health while also supporting others' mental health."
Like all HDFS majors, Dill was required to complete an internship; however, she was concerned about having to forego employment.
Encouraged by two of her professors — Jennifer Zosh, associate professor of human development and family studies, and Michael Sturm, lecturer in human development and family studies — Dill applied to Penn State's Student Engagement Network Grant Program. Dill was awarded the grant, which gave her the financial support she needed to complete her internship.
"Mr. Sturm was incredibly supportive and empathetic to the situation that I was going through," said Dill. "I think this semester would have looked very different if he wasn't teaching this class."
Sturm, who also serves as the internship coordinator for Brandywine's HDFS program, plays an integral part in students' professional development.
"Carly was an exceptional student who showed a lot of growth throughout the course of her internship thanks to her high degree of self-awareness," said Sturm. "The experience challenged her, allowed her to learn more about the direction she would like to head in the future and what she needs to thrive in future professional experiences. These takeaways are exactly how students can use their internship experience to their advantage before graduation."
Dill also credits her classroom experiences with helping prepare her for her internship and future career.
After taking Zosh's Intercultural Community-Building class during her first semester, Dill joined the research team at the Brandywine Child Development Lab, where she studied the impact of technology on children and families.
"I came into my college career thinking I knew all of my next steps and Dr. Zosh uprooted them in the best way possible," said Dill. "I thought I wanted to work with children and she just completely changed that script. That was so pivotal because I realized that I actually want to work with adolescents. But it's the upbringing that shapes people into who they are. And that's the connection that I'm interested in."
"One of the highlights of my job is seeing students grow and develop over their time at Brandywine and beyond," said Zosh. "Seeing Carly work on independent research and also transition into a professional in both research and her internship has been an honor."
"One of my fears for college was just being a number in a lecture hall, and I never once had that experience in any of my classes at Brandywine," said Dill. "Connecting with so many professors one-on-one and having that personal relationship with them — that made a world of difference."
Those one-on-one interactions left an impact on Dill that motivated her throughout her internship. She often took the initiative to perform tasks outside the scope of her position, even helping one student find a dental clinic and assisting another student who had a broken arm. Getting to know the students on a personal level was a turning point that helped Dill realize she ultimately wants to pursue a more hands-on, direct-service role.
Dill has plans to continue her field work and pursue a master's degree, with the goal of becoming either a licensed professional counselor or a marriage and family therapist.
"I think following your passion is important. So that's my next step."
While the Student Engagement Network Grant Program has been postponed due to the novel coronavirus, plans will be made to resume the SEN Grant Program in the future. Visit engage.psu.edu for updates about the next award cycle and sign up for email notifications at [email protected].