Philadelphia painter and muralist Ann Northrup will speak at Penn State Brandywine on Tuesday, Jan. 29 at 7 p.m. as part of the campus' Spring Speaker Series. Her presentation is titled "Do Not Pass Go; Go Directly to Art."
Northrup holds a master's in fine arts from Boston University and a national exhibition record. In addition to landscape and figure paintings in watercolor and oils, she has completed eight large-scale outdoor community murals. Northrup has taught at many colleges and universities in Boston and Philadelphia, most recently at Philadelphia University. In 2008, she taught drawing and mural painting inside the women's prison in northeast Philadelphia, and since then has taught and mentored ex-offenders, who have worked as her assistants on mural projects. In addition to her work as an artist, mural designer and teacher, Northrup is a national champion in a single scull.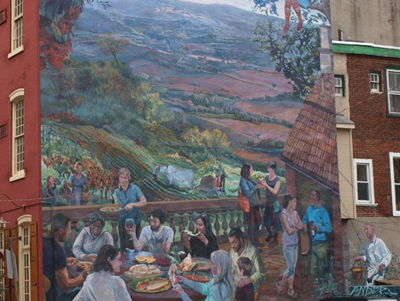 "A Taste of Summer" by Ann Northrup (mural at 1312 Spruce St., Philadelphia)
Northrup's visit, which will take place in the newly renovated professional classroom on the first floor of the Main Building (room 113), is part of a four-part Spring Speaker Series at the campus. The series is funded by a generous donation from a friend of the campus.
This event is free and open to the public and refreshments will be provided. Due to limited space, an RSVP is appreciated, but walk-ins are welcome. To RSVP, please contact Debbie Blanton at 610-892-1252 or [email protected].
As part of the speaker series, Brandywine will welcome Penn State Laureate Christopher Staley on Thursday, February 21 at 11:30 a.m.; Bryn Mawr Film Institute Director of Education Andrew Douglas, who will present "The Master of Suspense: Alfred Hitchcock," on Thursday, March 14 at 7 p.m. and White Dog Café Founder Judy Wicks on Tuesday, April 9 at 7 p.m. More information about these upcoming speakers can be found at http://www.bw.psu.edu/springspeakers.