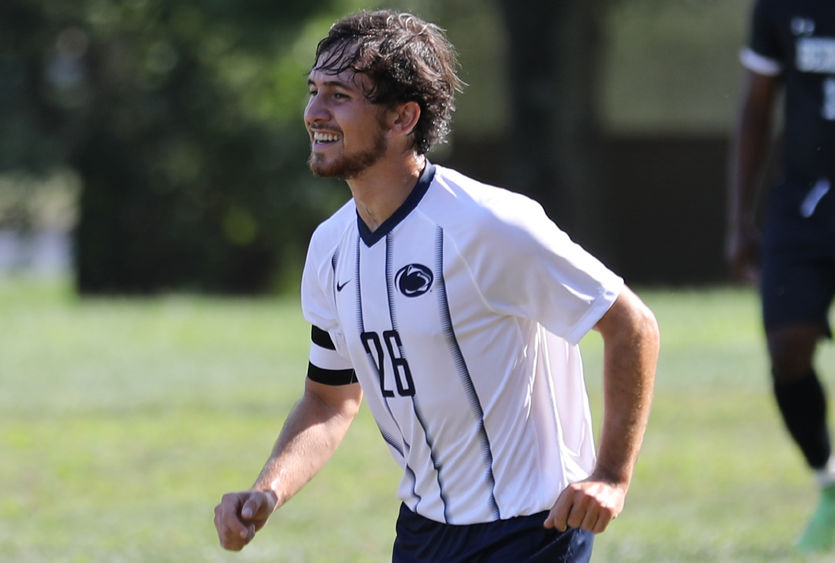 MEDIA, Pa. — Penn State Brandywine senior Stevie DiSipio earned the top honor for a Penn State University Athletic Conference student-athlete on Monday as he was selected as the recipient of the 2019-20 John S. Egli Scholar-Athlete Award.
The award, named in honor of John S. Egli, a former Penn State student-athlete, professor and coach responsible for bringing varsity athletic programs to the commonwealth campuses, has annually been bestowed upon the top male and female student-athletes in the PSUAC since 1982. To be considered for the award, a student-athlete must have had a distinguished athletic career, own a minimum grade point average of 3.0, be active in additional campus activities and exemplify high morals, leadership and outstanding character.
DiSipio was a two-sport student-athlete at Penn State Brandywine who competed in four seasons of men's soccer and men's tennis on campus.
As a member of the men's soccer team, DiSipio won four PSUAC Championships and was a member of the 2018 squad that won the USCAA National Championship. During the last four seasons, DiSipio was an all-conference honorable mention midfielder and defender who played in 77 total matches as a three-year starter, recording four goals and 13 assists. A 2019 team captain, he is the only male student-athlete in Brandywine history to have played four years without losing a single PSUAC game.
Also a two-year team captain of the tennis team, DiSipio compiled an overall record of 30-15 during the last four years. He went 16-2, including a 9-0 mark in singles matches, during the 2018-19 season, leading Brandywine to a record of 8-3 against NCAA Division III competition.
DiSipio was Brandywine's 2019 men's soccer recipient of the John Fritz Sportsmanship Award. He is also a seven-time PSUAC All-Academic Team honoree and received his third USCAA National Academic Team award this spring. DiSipio earned a 3.65 GPA as a letters, arts and sciences major (concentration in Earth science and environmental studies) and graduated from the University in May.
Outside of athletics, DiSipio worked on research with Laura Guertin, professor of earth science, during his time at Brandywine. He conducted a year-long project investigating the impact of rock salt placed on campus walkways and parking lots on water chemistry of streams that run through Brandywine's campus. At the conclusion of his research, DiSipio presented his findings at conferences both locally and regionally. In April 2019, DiSipio was honored with the GeoCUR Award for Excellence in Student Research from the Council on Undergraduate Research in Washington D.C.
Additionally, DiSipio served as the vice president of the campus' Sustainovation Club. The club combines interests in sustainability and innovation, completing numerous projects and challenges on campus throughout the academic year. During the 2017-18 academic year, DiSipio and three teammates won Canstruction U, an international competition that helps raise awareness and support for hunger in the local community. DiSipio was tasked with collecting canned goods to build a structure that could combat chronic hunger issues and drawing awareness to the environment in local communities. At the conclusion of the competition, more than 2,000 canned goods were donated to local homeless shelters.
DiSipio is the fifth male and 15th overall student-athlete from Penn State Brandywine to receive the John S. Egli Award. Brandywine's 15 honorees are the most among the 14 campuses that comprise the Penn State University Athletic Conference.