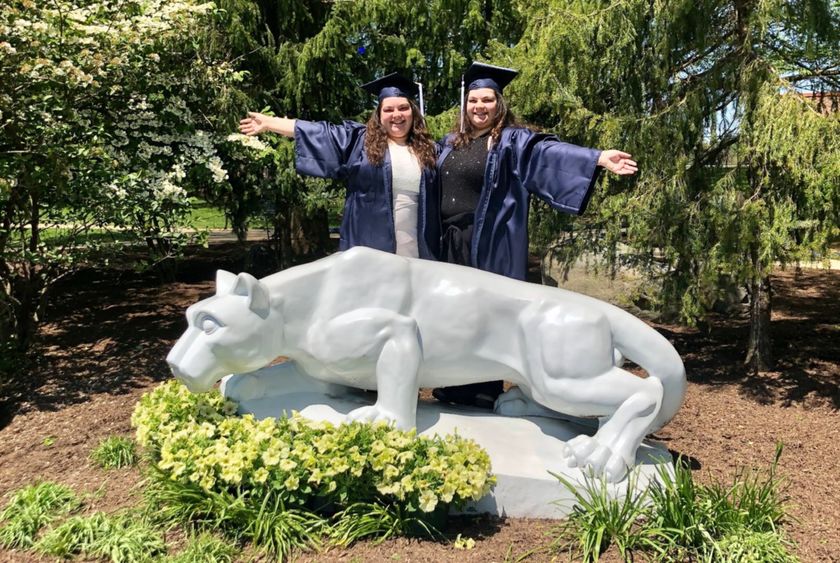 As Penn State conferred degrees upon its graduates during a virtual commencement ceremony on May 9, twin sisters Chloe and Claudia Przybylski celebrated in the suitably decorated living room of their home with their parents, Sam and Barbara. The Penn State Brandywine students each donned their cap and gown, and at the appropriate time, their mother handed them a piece of paper representing their diploma.
Outside, large letters across their front yard spelled out "We are Penn State grads."
The Przybylskis, both human development and family studies majors, were among 110 Penn State Brandywine students who earned bachelor's degrees. They were impressed with the virtual ceremony that was necessitated by the coronavirus pandemic as well as Brandywine's commencement web page, which included video messages from the campus chancellor, faculty and staff, and the graduates themselves.
"I thought it was really cool how they did it," Chloe said of the livestreamed ceremony led by Penn State President Eric Barron. "I'm still sad that I didn't get to see everyone in person on the same day, but it was well done and I liked all the messages that everyone sent in."
Immediately prior to the virtual ceremony, the sisters joined other graduates and their faculty in a Zoom video conferencing room for a chance to reminisce and say goodbye.
"I thought it was such a sentimental way to say goodbye to all the teachers that I have grown close to," Claudia said. "I honestly do not think I would have survived the past four years without them, so it was a nice way to say goodbye even if it was virtually."
Lauren Burke, who earned a bachelor's degree in business, also took advantage of the virtual events to celebrate her graduation.
"The virtual ceremony was well put together and made an impression despite the fact that it was not the norm," she said. "Penn State and the Brandywine campus did a wonderful job making us feel accomplished. I was able to speak to my professors on a Zoom call for a personable 'goodbye' where we received meaningful advice, which was a wonderful way to end my college career."
Psychology major Kenesha Hayles was among many graduates who thanked faculty and staff for their support.
"I would like to take a quick moment today to say thank you and to show my heartfelt gratitude and appreciation to everyone at Penn State Brandywine who contributed to my success in some shape or form," Hayles said in her video message. "A special thank you to the psychology department for your help and guidance through this journey."
In her message to the graduates, Brandywine Chancellor Marilyn J. Wells encouraged them to reflect on the importance of the day.
"Commencement marks a momentous occasion in your life — the completion of your bachelor's degree," she said. "Commencement marks your ability to persevere and to succeed — through the best of days and through the most challenging days of your college years. For you, our Class of 2020, your challenges have been unique and extraordinary."
"Today, you commence a new chapter in your life," Wells added. "Whatever your new beginning will be, I am confident you are prepared to be wildly successful. I look forward to the day when we can celebrate with you in person."
Penn State and the Brandywine campus have committed to hosting in-person celebrations for the Class of 2020 when public health guidelines allow. The Przybylskis are looking forward to that event.
"I love watching the graduates walk across the stage when their name is called out," Claudia said. "It's nice to see everyone recognized for their achievements."
For now, though, Burke and the Przybylskis will focus on beginning their careers. All three graduates completed internships that led to full-time positions.