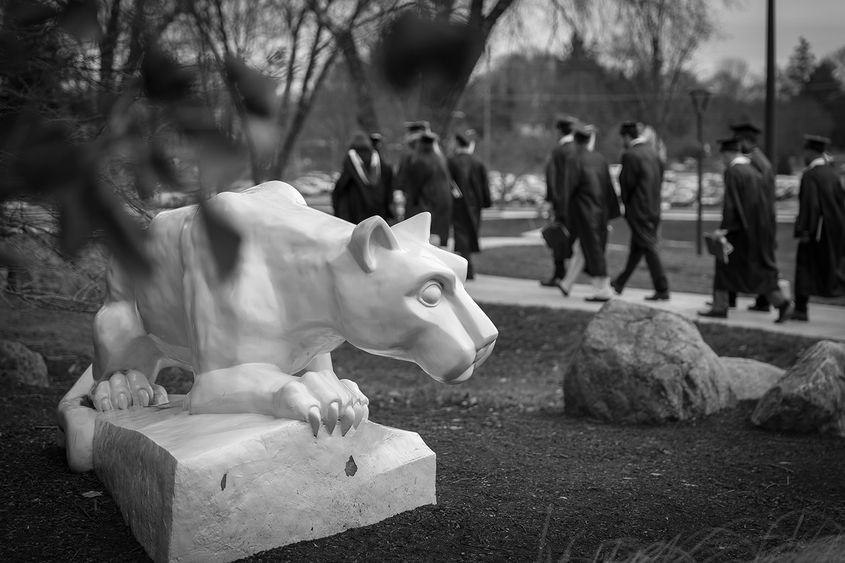 Penn State Brandywine's spring graduates will celebrate their milestone achievement on Saturday, May 9 with a University-wide virtual commencement ceremony and video conferencing with campus faculty and staff.
Just prior to the University-wide virtual commencement ceremony, Penn State Brandywine graduates are invited to join with faculty and staff in Zoom rooms from 1:15-1:45 p.m. The rooms will be grouped by major. Details for the Zoom rooms will be sent to all graduates by email.
At 2 p.m., the University will host its first virtual commencement. The ceremony will be livestreamed at https://spring2020.commencement.psu.edu/. The ceremony is expected to last about 45 minutes.
The livestreamed ceremony will involve traditional ceremonial components, including formal remarks and conferral of degrees for undergraduate students at University Park and all Commonwealth Campuses, as well as for graduate students in The Graduate School.
As the virtual ceremony begins, graduates, family members and friends will be able to view a webpage created for Brandywine that will include a list of the spring graduates, as well as video messages from Chancellor Marilyn J. Wells, faculty and staff, and the graduates themselves. The site will also list graduates who have earned academic distinctions. The virtual commencement livestream site will include a link to Brandywine's commencement web page, which will remain posted for one year.
Graduation caps and tassels are being mailed to all spring graduates.
Graduates are encouraged to share photos of their in-home celebrations on social media using the hashtags #PSUgrad and #PSUBW2020. Graduates can also email photos to [email protected] for use in the campus' social media.
While the coronavirus pandemic has led to the University offering a virtual spring commencement for the Class of 2020, Brandywine is planning to hold a celebration on campus when public health guidelines allow. Potential dates and details will be announced in the future as more information is known about the spread of COVID-19 and the continued need for social distancing.