Judy Wicks, founder of iconic Philadelphia restaurant White Dog Café, will visit Penn State Brandywine on Tuesday, April 9, from 4 to 6 p.m. as part of the campus' Spring Speaker Series. She will present "Good Morning, Beautiful Business: Building a Caring Economy" in the Tomezsko Classroom Building Lounge.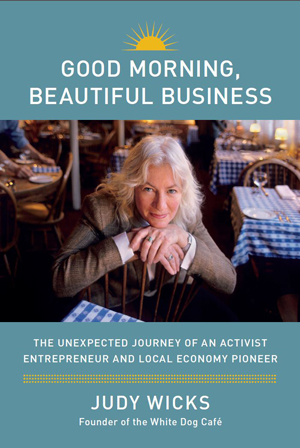 Wicks started the now 200-seat restaurant as a small muffin shop in University City in 1983. Later, White Dog Café grew into a multi-location eatery with a nationwide reputation for community involvement, environmental care and trustworthy business practices.
White Dog Café offers a unique farm-to-table experience founded on environmental sustainability. All of the dishes are served with locally obtained and organic foods. By using seafood from Barnegat Light, N.J., poultry from Lititz, and vegetables from Perkasie, for example, White Dog Café creates relationships with resident farmers and strengthens the local economy.
Event attendees will hear highlights of Wicks' esteemed career and copies of her latest book will be available for sale. 
This event is free and open to the public and light refreshments will be served. Penn State Brandywine will also welcome Poet Ethel Rackin to campus for a poetry and literature reading on Tuesday, April 2, at 11:30 a.m. during Brandywine's annual Litapalooza Literary Festival. To find additional information regarding these events, visit Brandywine's Spring Speaker webpage.