Penn State Brandywine honored students, faculty and staff for their achievements and excellence in academia at the annual Academic Recognition Ceremony on Tuesday, March 26.
Friends, family and the campus community gathered together to congratulate more than 200 honorees that were presented with the Academic Achievement Award, given to students who have achieved a GPA of 3.5 or higher.
Sophomore Cody Bressler received the President Sparks Award for earning a 4.00 (A) cumulative GPA based on 36 Penn State credits completed by the end of the fall semester.
The President's Freshman Award, presented annually to freshmen who have earned a 4.00 cumulative GPA based on at least 12 graded credits completed by the end of the fall semester, was awarded to Crystal Bowman, Melissa Le, Matthew Drissel, Rebecca Slomowitz and Jesse Hurden.
The Randall S. Stout Award was established in memory of Randall S. Stout, professor of economics at Penn State for 36 years. This award honors a senior who has demonstrated superior academic performance and outstanding participation in the bachelor of science in business program at the campus. This year's recipient was Amanda Dzwill.
The Evan Pugh Scholar Award, awarded to juniors and seniors who are in the upper 0.5 percent of their respective classes and have completed at least 48 graded Penn State credits by the end of the fall semester, was given to senior Eileen Fresta and junior Nicholas Vico.
The Newman Civic Fellows Award, a national award bestowed by the national organization Campus Compact, was given to Rebecca Berkowitz. She was among 181 student leaders from 36 states and Washington, D.C. to receive this recognition. This award honors inspiring college student leaders who have demonstrated an investment in finding solutions for challenges facing communities throughout the country. Newman Civic Fellows are recommended by college and university presidents.
Associate Professor of English and Honors Coordinator Kimberly Blockett was presented with the Madlyn Hanes Faculty Award, which recognizes a full-time faculty member who has made outstanding contributions to the campus community through exceptional achievement in teaching, research, scholarship, creative activity or service. Her award was presented by Associate Professor of Ethnomusicology and Integrative Arts Paul Greene, who referred to the energy of Blockett's "special kind of leadership ? a kind of energy to be all I can be."

Kimberly Blockett
The Undergraduate Faculty and Student Research Awards were presented to Associate Professor of Physics and Astrophysics Timothy Lawlor, senior Eileen Fresta, and Abigail DuFoe, formerly a Penn State Brandywine student who is currently attending University Park. This award recognizes the excellence in faculty mentoring and student involvement in undergraduate research.
Professor of Human Development and Family Studies Djuradj Stakic and Associate Professor of Earth Sciences Laura Guertin were presented with the Faculty Research Program Award, honoring and recognizing scholarly or creative excellence in the arts, humanities, social sciences, natural sciences, engineering, business or communication.
Guertin was also the recipient of the George W. Franz Advising and Mentoring award. This award was created to honor and recognize faculty or staff at Penn State Brandywine who have, over a period of time, excelled in helping others recognize and achieve their potential.
Part-time Instructor in Business Alan Randzin was awarded The Part-Time Faculty Award, created to recognize a part-time faculty member who makes an exceptional contribution to the students and to the academic community through outstanding teaching, advising and service. Assistant Director of Academic Affairs Patricia Hillen said in her introduction, "Alan has a positive, can do attitude, and a cooperative spirit with everyone he encounters whether dealing with students, faculty or staff."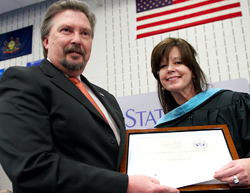 Alan Randzin and Patricia Hillen
Professor of Mathematics Charles Helou was the recipient of the Distinguished Teaching Award. He said the award was "particularly meaningful and gratifying, as it is based on my students' appreciation for the diligence, enthusiasm, method and substance of my teaching. It also reflects a culture of pursuit of excellence on campus, well represented by many outstanding and inspiring colleagues."
Distinguished Professor of Political Science Stephen Cimbala, recipient of last year's award, described Helou as "among the campus leaders in service to the campus, University and profession ? a mentor for other faculty and a 'man for all seasons' at Penn State Brandywine."
To order or view photos from the event, go to Third Eye Productions or call 215-635-1988.