Each year, the final total is revealed amidst tears of exhaustion, elation and absolute pride as Penn Staters across the commonwealth celebrate another year that will go down in history. After months of canning, fundraising and prepping for the most intense all-nighter most of these students will ever experience, THON broke yet another record.
$12,374,034.46.
That's how much money Penn Staters raised to fight pediatric cancer.
$12,297.12 of that came directly from Penn State Brandywine.
Instructor Karrie Bowen, adviser to Brandywine THON had this to say about the campus' efforts this year.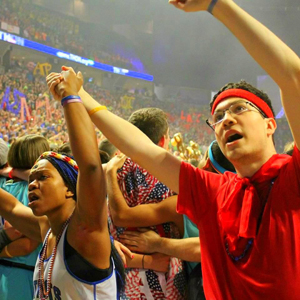 "I could not be more proud of our campus and our students than I am right now. The large majority of students who are involved in THON this year are freshmen and sophomores, and even though it was a pretty daunting task, they jumped into the game with no fear. I think what stands out most for our THON organization this year is that on one level, they knew that THON requires a huge commitment, but I don't think a lot of them fully understood the magnitude of it all. However, as a group they not only rose to the occasion, they went above and beyond. The dedication to the mission of THON with all of our membership this year really has been amazing, and I can't wait to see what they do come next year. Dancers Chris Kramer and Tara Landis were unbelievable from start to finish. They both chaired committees (Tara was our Fundraising Chair and Chris was our Morale Chair), they canned and did events without any reservations and, as dancers, they were phenomenal ambassadors for our campus. Those two really do embody what THON is all about."