Penn State Brandywine held its annual spring showcase called EURECA (Exhibition of Undergraduate Research, Enterprise and Creative Accomplishment) on April 16, in the campus' Tomezsko Classroom Building Lounge. The annual event allows undergraduate students to present their research and creative endeavors that they have conducted during their time at Brandywine.
Penn State Brandywine is dedicated to giving its students the opportunity to conduct research alongside scholars, which takes undergraduates beyond traditional learning methods. By working on research projects students sharpen their critical thinking skills, become better team players and develop into more effective problem-solvers.
This year's EURECA featured 20 poster presentations and four oral presentations from students in disciplinary programs such as technology, engineering, mathematics, social science and humanities.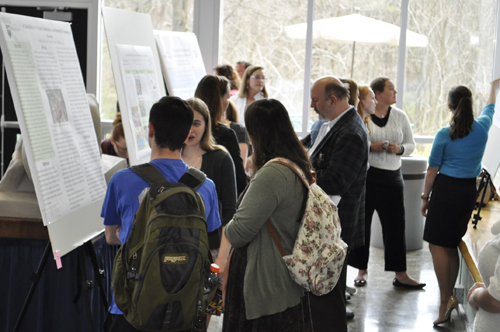 "It is very important for students to engage in the type of long-range or substantial projects which were presented at EURECA," explained Hans Schmidt, assistant professor of communications at Penn State Brandywine. "Through these types of projects, whether they involve research, enterprise or creative accomplishment, students learn about the thrill of discovery and gain many of the real-world skills that are so critical for success after graduation."
Senior human development and family studies (HDFS) major Sarah Huppman, of Brookhaven, was presented with the Civic Engagement Award for her enterprise project "The Impact of Recent Educational Budget Cuts on Public Pre-Kindergarten in Texas." The award recognizes a project that has made a positive difference in civic life for communities.
The STEM Research Award recognizes a project that is in the disciplines of science, technology, engineering or math and possibly holds significance to the general public. Sophomore science major Zachary Peterson, of Avondale, received the honor for his work titled "The Earliest Stars in the Universe: The Evolution of High-Mass Population III Stars."
Senior human development and family studies (HDFS) major Jill Gillin, of Springfield, was this year's recipient of the Social Science and Humanities Research Award for her research titled "Parent Perceptions of Educational and Electronic Products in an Electronic Era." The honor recognizes a social science and humanities project that holds importance in the field of study and has a potential impact on the public.
"I'm very grateful for the experience I've had at Penn State Brandywine, especially working with Dr. Jennifer Zosh in the Brandywine Child Development Lab," Gillin said. "Technology has changed children's culture dramatically, and Dr. Zosh and I believe strongly in the power of play. I have three young children of my own, so it meant a lot to me as both a parent and a student to take on this project. I'm proud of our work and participating in EURECA was truly rewarding."
The Enterprise Award, which honors an endeavor from any field, was presented to senior HDFS major Krista Jean Schug, of Berwyn, for her project "Family Move Nights: Health Promotion Council." This award acknowledges a project with a meaningful undertaking and results in the possibility of everyday use.