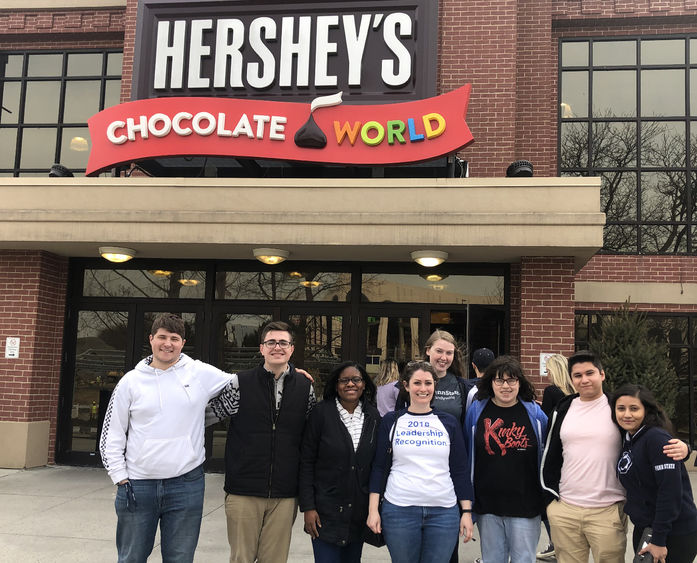 MEDIA, Pa. — Bridget O'Donnell, assistant director of student engagement at Penn State Brandywine, has been recognized as Advisor of the Year by the Association for the Promotion of Campus Activities (APCA).
APCA, whose mission is to promote campus engagement through quality educational experiences, affordable entertainment and community service initiatives, gives the regional award to an adviser of a student programming board "who has gone above and beyond in their role."
An integral member of Student Affairs, O'Donnell creates new opportunities to encourage students, collaborate with colleagues and support a diverse student body.
"Since arriving at Brandywine in November 2016, Bridget has worked tirelessly to not only provide a diverse slate of student engagement opportunities, but also to work with other departments on campus to provide these opportunities," said Interim Director of Student Affairs Gary Miller. "The Diversity Summit, International Pronouns Day and the National Coming Out Day Celebration have become signature events for Student Affairs, and Bridget's work has made becoming an Orientation Leader and participating in B.E.A.S.T. standout leadership opportunities for students."
O'Donnell's efforts also include serving on the Orientation Planning Team, acting as the chair of the Diversity & Inclusion Committee for Students and Programs, and leading the campus' Coalition on Sexual Orientation and Gender Identity (CSOGI), among others.
As the adviser for the Brandywine Events & Activities Service Team (B.E.A.S.T.) — a student organization that plans educational, recreational, spiritual and cultural programs and events — O'Donnell is impacting both the campus community and the students she mentors.
"Bridget helps us execute all of our events in the most effective way, and she encourages us to use our training and previous leadership experiences to make decisions," said Brandywine junior and B.E.A.S.T. chair Kennesha Busby. "I consider having Bridget as our adviser a blessing. She consistently does her best to ensure we host successful events that are not only fun and engaging but also build our campus pride and community."
"Bridget cares so deeply about every single student on our campus that it radiates in everything she coordinates," said sophomore and fellow B.E.A.S.T. member Ryan Peterson. "Bridget always sees the best in me even when I don't, and without her I know I would not have been able to succeed as a student on our campus. Her commitment to the community is unmatched and this award is well deserved."
O'Donnell shared that due to coronavirus travel restrictions, she and her students were unable to attend the APCA Hershey Conference where the award was presented. While she livestreamed some of the events, O'Donnell missed the moment when APCA announced the Advisor of the Year. She was surprised when a colleague sent an email congratulating her and had to review the recording to confirm that it was true.
"It was such a bright spot in a dark week after the campus closure," O'Donnell said. "The best part, though, is that the students nominated me for the award. Knowing that they took the time to write nominations in support of the work I do fills my heart with joy, and I am so honored to be able to serve them as their adviser."
From campus-wide programming to one-on-one conversations, O'Donnell is making a difference for students, both personally and professionally.
"All humans, but especially college students who are figuring out how they show up in the world, have a need to feel seen, heard, valued and important," said O'Donnell. When people feel those things, they are empowered and motivated to do their best and make an impact on their corner of the world."