Three budding high school journalists from Delaware and Chester counties were recognized for their outstanding reporting and writing at Penn State Brandywine's inaugural Communications in the Future Symposium on April 24. For its Pride in Print Competition, the campus received 74 articles written by students from 10 high schools for judging in three categories - news, features and sports. A finalist was chosen in each category and a Nook Color Tablet was awarded at Wednesday's culminating event.
Woodlynde School senior Patrick Torphy, of Bryn Mawr, won the award for Best News Story for his article titled "Concussions: A dangerous risk finally being taken seriously," which he wrote for his high school's student newspaper, The Informer.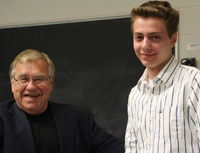 Avon Grove High School senior Bekah Curran, of Landenberg, won the award for Best Feature Story for her article "Klesius: Superstitions to scholarship," which appeared in her high school's student newspaper, Herald Sports.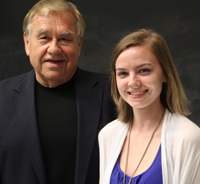 Alex Roberts, of Brookhaven, also a senior at Woodlynde School and writer for The Informer, won the award for Best Sports Story for her article "Cheerleader loves to fly."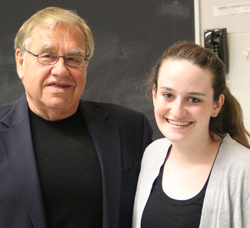 Their stories were judged for value or importance, quality of reporting and quotes and quality of writing, by faculty and staff at Penn State Brandywine and members of the Press Club serving the Philadelphia Suburbs, who co-sponsored the event.
The talented finalists received their awards in front of a packed room that included fellow budding journalists who also submitted stories for the competition, communications majors at Penn State Brandywine, community members, friends and families.
Retired communications instructor and Regional Director of University Relations at Penn State Joe Biscontini served as the emcee for the evening.
A panel of four communications professionals representing key disciplines in the field - print journalism, radio, new media and public relations -- engaged in a lively discussion about the future of journalism, its changing landscape and cats (yes, cats).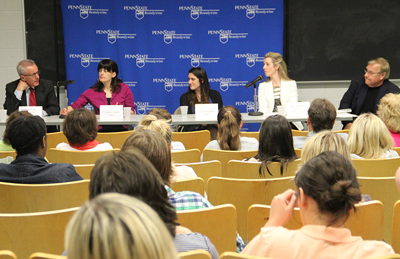 The Communications in the Future Symposium panel (left to right): Phil Heron, Delaware County Daily Times; Elizabeth Fiedler, WHYY; Lauren Yapalater, BuzzFeed; Blair Cardinal, Buchanan Public Relations; Joe Biscontini, Penn State
Delaware County Daily Times Editor Phil Heron represented the "old school" side of journalism as he shared his thoughts on where the field is headed and how he's adapted since the creation of social media and the rise of online-only news. He lamented that he spends far too much time on Twitter and one could find "pieces" of him scattered across the platform, but said he's confident investigative journalism and local coverage will remain a vital piece of the news cycle.
WHYY Correspondent Elizabeth Fiedler has a passion for politics and urban life, and she, too, practices old school reporting techniques while using social outlets to reach her audience. She drilled home the point that "being a good writer could never hurt you." Her advice to the students in attendance: exceptional writing skills will help them in any job in any field, not just communications. Fiedler said WHYY interns who work hard, write exceptionally well and prove themselves almost always land a fulltime offer.
BuzzFeed Associate Editor Lauren Yapalater was proof of that point. Having started at the internet-only, blog-like platform as an intern just over a year ago, she's proving that there are careers to be had in new media. Yapalater shared the importance of online community, saying most new hires at BuzzFeed come from within the platform's user community, and how she manages to work hard and produce engaging, viral content on a daily basis while spending several hours a day playing with the famous cats that visit the office and then blogging about them.
Rounding out the panel with a unique perspective on the intersection of her colleagues' disciplines was Buchanan Public Relations Account Supervisor Blair Cardinal. Having begun her career as a journalist and editor for The University of Delaware's student-run newspaper, The Review, Cardinal shared how mastering the art of news writing helped create a solid foundation for her career. She said understanding the inner workings of all communications channels is vital to a career in public relations. Success in the field takes determination, excellent verbal and written communications skills and the ability to find relevance in almost every story. Almost. Cardinal's job is to pitch her client's stories to print, radio and TV journalists as well as bloggers and other new media writers, so she was in good company.