Four Penn State Brandywine students presented their research at the Regional Undergraduate Research Symposium at Penn State Hazleton on Thursday, April 18. The event featured some of the best undergraduate research from five area Penn State campuses - Schuylkill, Wilkes-Barre, Lehigh Valley, Worthington Scranton and Brandywine.
Freshman Corey Young won second place in the arts and humanities category for her research and presentation, "The Rutgers Tomato, Super Foods and Environmental Philosophy." Her research mentor was Associate Professor of Philosophy and Environmental Studies David Macauley.
Sophomore science major Zachary Peterson presented his research on "The Earliest Stars in the Universe: Evolution of High-Mass Population III Stars" in the STEM category. His campus mentor was Associate Professor of Physics and Astrophysics Tim Lawlor.
Junior mechanical engineering major Rainaire Hansford presented his work on "Chronicles of Nair" in the STEM category. His campus mentor was Associate Professor of Engineering Asad Azemi.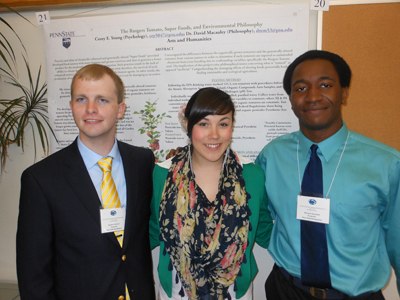 Zachary Peterson, Corey Young, Rainaire Hansford (left to right)
Senior English major Rebecca Brophy's poster on "Evolution of Gender Perceptions During the Eighteenth and Nineteenth Centuries in England and the Twentieth Century in America" was displayed, although she was not able to attend the event in person. She was mentored by Associate Professor of English Paul Orlov and Assistant Professor of English Elizabeth Womack.
Azemi and Macauley served as judges at this annual event celebrating outstanding research contributions made by undergraduates at Penn State.