Find the positive, build connections, love your family and experiment. "It's all about your attitude, graduates," Penn State Brandywine Commencement speaker David Lipson Jr. '78 Com advised the class of 2013 on May 4 in the campus gymnasium.
 
A Penn State alumnus who has worked hard to build a successful career in magazine publishing, Lipson shared a few life sessions and words of encouragement with the more than 100 graduates.
"Your path ahead will indeed be challenging, your dream job may not come right away, but hang in there," he said to a rambunctious and excited crowd. "Now is the time to experiment. Find out what really turns you on, what really makes you happy ? You can't let the fear of failure stop you from moving forward."
Lipson, a native of the Philadelphia area, currently serves as the president of Metro Corp., a publishing company whose signature titles include Philadelphia and Boston magazines. He has been associated with the corporation in numerous ways for more than 30 years. Lipson is a lifetime member of the Penn State Alumni Association and received the prestigious Alumni Fellow Award in 2008. He remains an active representative of the community. Penn State Brandywine students receiving their diplomas will join the largest dues-paying alumni association in the world that consists of more than 145,000 members worldwide.
Per Penn State Brandywine tradition, graduates were provided a few moments to say a few words of thanks to family, friends and mentors as they crossed the stage to receive their degrees. And as is tradition, these special words were met with many tears, laughs and cheers.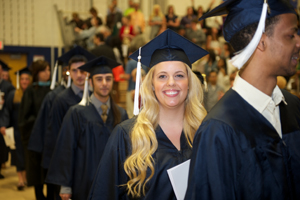 Class of 2013 proceeds into the gym.
Adult student Bethanne Seufert, who graduated with high distinction and a bachelor of arts degree in American Studies, said, "I want to thank all my fantastic professors ? I especially want to thank my children who were my biggest cheerleaders and helped me study for tests, and I want to thank my husband for being there with me through it all."
As the sound of screaming supporters echoed through the crowd, Arielle Coleman, who received a bachelor of arts degree in communications, thanked her "crazy family ? and my mom for believing in me."
"To my graduates, our time is just beginning because soon we're going to take over the world!" said Jamal Ayoub, who received a bachelor of arts degree in English.
His fellow graduate in the English department, Cordelle Mercer, had a more solemn moment. He dedicated his degree to his grandmother, who recently passed away. "I wanted her to know that I'm never going to let her down and I will always love her," he said.
There was much love for staff and faculty, too. "I'd like to say thank you to the professors, they really made the school more like a second home and I would like to thank my classmates. We are small, but we are mighty!" said Stephanie Byers, who received a bachelor of science degree in education.
"I would like to thank my family and all of the families that are here today for supporting us mentally, physically and financially. Thank you!" added Kim Ngan Nguyen, who received a bachelor of science degree in psychology.
To hear all the thanks and relive these sacred moments as the graduates say their final farewells before heading off the stage into the "real world," watch the complete graduation video at http://bit.ly/PSUBWCommencementSP13.
To view and purchase photos from the ceremony, visit http://bit.ly/12bTmGf.