Philip Kurland, '90 accounting, roamed the collegiate halls of the Brandywine campus in the late 1980s before heading up to University Park to finish his business degree. While at the Philadelphia suburban campus, he embraced college life by getting involved with student government and THON. In a recent interview, Kurland shared his fond memories of those days.
"Going to Delaware County (the name of the campus at the time) was the best thing for me because it was smaller," he said. "I had friends that went to main campus and unfortunately they got lost in the herd. But at Delaware County I was able to get involved and make a lot of friends that I still have today. It was an awesome time."
According to Kurland, who served as Student Government Association treasurer at the campus, the 1988 student governments of the Commonwealth Campuses would meet and discuss possible involvement opportunities with Penn State overall. One idea that took hold at those meetings was to get involved with THON. This was a novel idea at the time, as most dancers in the early days were from University Park fraternity and sorority teams.
Twenty-five years ago, THON was much smaller than the mega student-run production it is today. However, the goal has remained the same throughout the decades: to raise money and awareness for the fight against pediatric cancer via the Four Diamonds Fund at Penn State Hershey Medical Center. Kurland and his dance partner (now wife) Beth Barr, joined teams with the Penn State Behrend, Altoona and Mont Alto campuses. This small group of eight danced and supported each other throughout the 46 hours of THON, which was held in the White Building.
Kurland remembered the humorous moments of the 1988 THON as well as the serious ones, from different members of his group hallucinating--including him--to the tears of pain and exhaustion. At one point early Sunday morning during THON weekend, Kurland was convinced that people in the stands were growing hair on their faces and turning into werewolves.
"During THON, I would look forward to the bathroom breaks," reminisced Kurland. "After each break, the dancers would run and slide flat on their stomachs on mats that were covered in baby powder. Then, there were people who would massage your body. It was great.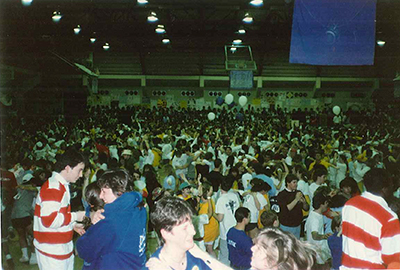 THON dancers in the White Building.
"Outside of having just a really good time," Kurland continued, "just seeing the kids and being with them was awesome. Talk about motivation. That's all you need. When you thought you were in pain and suffering, it was uplifting to see those kids. We were shown some film clips about the kids and what they have to go through. They are just so strong and they bounce back. They're so inspiring ? THON was very rewarding. It opens your eyes to what students can do. It's an empowerment."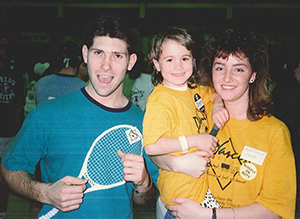 Kurland with one of the children and a moraler.
In 1988, Kurland and Beth raised $640 as the Brandywine campus' representatives for THON. The record breaking overall amount raised in 1988 was $324,199. Last year, the Brandywine campus community joined together to raise $12,297.12; the jaw dropping overall amount raised was $12,374,034.46.  
Penn State Brandywine will kick off the 2013-14 THON season with a canning weekend September 27 through 29, followed by a number of other fundraising events that will take place throughout the semester.
For more information about THON visit http://www.thon.org or visit https://www.facebook.com/PSUBwineTHON to stay connected with Penn State Brandywine THON.