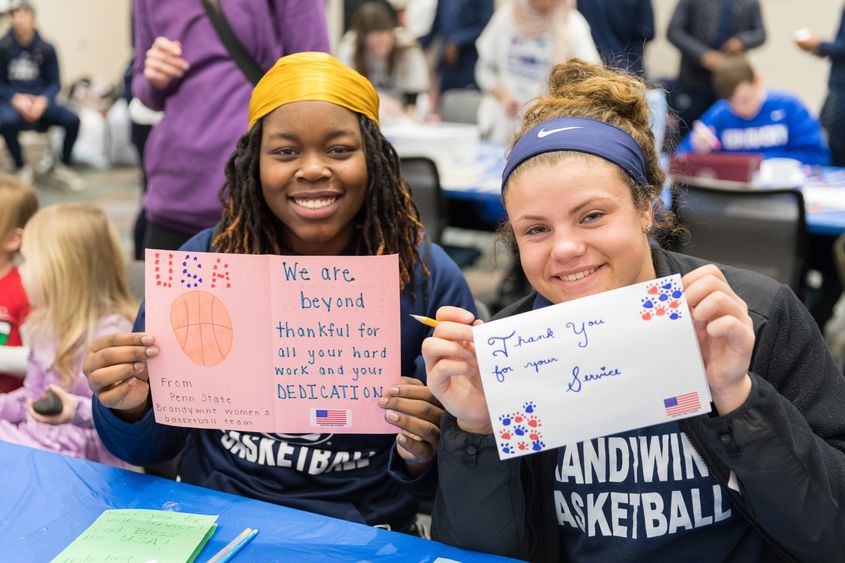 MEDIA, Pa. — Community members are invited to join Penn State Brandywine students, faculty and staff on Martin Luther King Jr. Day for a morning of family-friendly service activities. The event will be held from 10 a.m. to noon on Monday, Jan. 20, in the Student Union on the Brandywine campus, 25 Yearsley Mill Road, in Media.
The MLK Day Celebration will focus on acts of kindness, educational activities, inclusion and artistic expressions of King's legacy. The event is organized by Penn State Brandywine's Center for Ethics and Civic Engagement in partnership with FUSE (Fellowship of Urban Suburban Engagement) and various student clubs and organizations.
In addition to creating Valentine's Day cards for seniors at Fair Acres and Surrey Services for Seniors, volunteers will be sorting and packaging donated items that will be distributed to community non-profits. Attendees are asked to bring toiletry items and socks that will be donated to Backpacks 4 the Homeless, non-perishable food items that will be donated to local food pantries, and/or old towels or blankets that will be donated to Providence Animal Center. Volunteers will also help participants learn how to use their personal electronic devices.
Student groups will be leading various service projects and educational activities that focus on voting rights and King's legacy, along with a voter registration drive.
The event is free of charge and light refreshments will be served. To register for the event, visit https://tinyurl.com/PSUBrandywineMLK.
For additional information, contact Vippy Yee, Rosenberg Director of the Center for Ethics and Civic Engagement, at [email protected].