Someday people may be thanking former Penn State Brandywine student Thuan Nguyen and his team's rescue helicopter design for saving their lives. The recent Penn State graduate and Newtown Square native was a member of a group of Penn State students who won the American Helicopter Society (AHS) International 2013 Student Design Competition.
The team, consisting of six undergraduate Penn State aerospace engineering students, modeled a helicopter specifically geared toward finding and rescuing victims of a natural disaster. The aircraft, named Griffin for its symbolic meaning of salvation and strength, had to meet very precise requirements to win first place in the Undergraduate Category.
The design was judged in four major categories: technical content, application and feasibility, originality and the organization and presentation of the plan. 
Griffin was also required to perform three distinct missions that included fast deployment and rescue coordination, aid distribution and the evacuation of casualties.
To accomplish these missions, the helicopter had to reach the disaster zone rapidly with a minimum speed of 240 knots (276 mph). Additionally, the aircraft needed to carry a six-ton useful payload of rescue items such as people, water, food and medical supplies. Other requirements included a 6,000-meter flying altitude, a 2,000-meter hovering altitude and a climbing rate of 2,000 feet per minute.
An added challenge for the team was that they had to determine the helicopter's performance ability without actually flying the design. To accomplish this, "We ran through calculations using variables like the power of the engine, the weight of the aircraft and the characteristics of the wings," Nguyen explained.  
Nguyen was specifically tasked with overseeing the helicopter's stability and control. He made certain that the aircraft would be able to remain steady throughout all three missions by designing and evaluating the wings and tail, which were constructed as models and then tested in a wind tunnel.
"After all of the time and effort we put into our project we were confident and proud of our design," he said. "It was extremely rewarding to be recognized by the AHS."
Two members of the team will travel to Montreal, Canada in May to AHS International's 70th Annual Forum and Technology Display. At the three-day event, the Penn State team will have the opportunity to present the details of its design alongside leading manufacturers, defense agencies, universities and research and development organizations from around the world.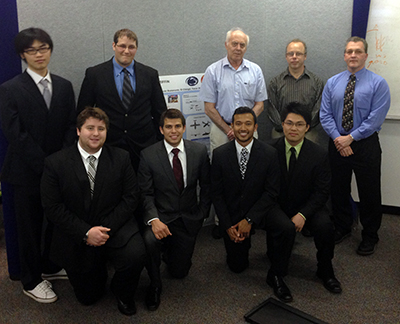 Thuan Nguyen (front, right) with his team