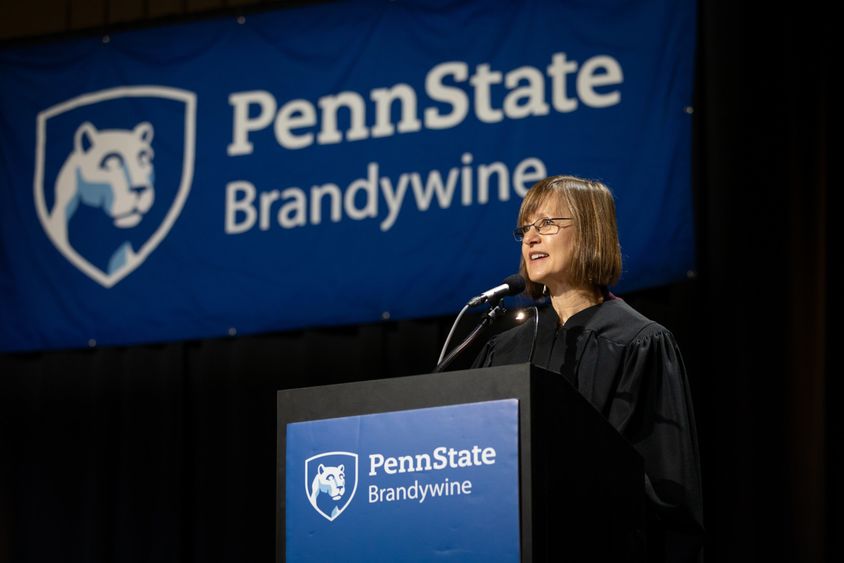 MEDIA, Pa. — Failure to address climate issues will bring economic consequences and could affect job prospects, a nonprofit leader told graduates at Penn State Brandywine's fall commencement ceremony on Dec. 20.
Elizabeth Killough is director of the Media-based Untours Foundation, which provides loans and support to green, leading-edge businesses that address social and economic issues, including creating jobs for vulnerable populations. The foundation owns Untours, a certified B Corporation that provides planning and transportation support for independent travelers.
"All businesses we invest in must take the climate crisis into account and be models for others to aspire to," she said, citing examples such as a laundry service that uses bicycles for pick-up and delivery, a no-plastic grocery store, and several zero-waste fashion companies.
"We've lived beyond our means and beyond the limits of the Earth to restore itself and provide for us," added Killough, who has played a key role in building a Fair Trade movement nationally and in Media. "Our lack of stewardship for the Earth and for your healthy futures is unconscionable. You need to hold us accountable and demand we take more action to turn the crisis around."
Killough also encouraged graduates to connect with people who can provide them with assistance when needed.
"Create healthy, vibrant networks that work for you," she said. "Ask for help at every turn of your lives. Whether you're looking for a job or the right doctor, reach out."
After the commencement address, Interim Chancellor Cynthia Lightfoot and Interim Director of Academic Affairs Ivan Esparragoza conferred the degrees.
"I congratulate you on all of your wonderful achievements and thank you for the contributions you have already made," Lightfoot told the graduates, noting their achievements in academics, athletics and community service. "We have been inspired by your work ethic, sacrifice and determination."
As students received their diplomas, Brandywine continued its long tradition of allowing each student a few moments to share thoughts about their college experience and acknowledge those who helped them along the way. Most thanked parents, spouses, children and classmates for their support and encouragement, while others expressed their appreciation to faculty and staff members.
Penn State Brandywine, with 1,400 students, is a residential campus offering 13 baccalaureate degrees and the first two years of nearly all of Penn State's 275 majors.