The Penn State Brandywine men's soccer squad accomplished something that they haven't done in 24 years. On Sunday, Oct. 27, the Nittany Lions defeated their rivals, Penn State Beaver, and were named the Penn State University Athletic Conference (PSUAC) Champions. This marks the first time Brandywine soccer has won a championship since 1989.  
The final score was 5-1, as Brandywine had complete control over the hard fighting Penn State Beaver team throughout the entire game. Brandywine was able to dominate the time of possession with 76 minutes to Beaver's 14 minutes. All 20 players had a chance to take the field in the match, which was held at University Park on the cold and windy October afternoon.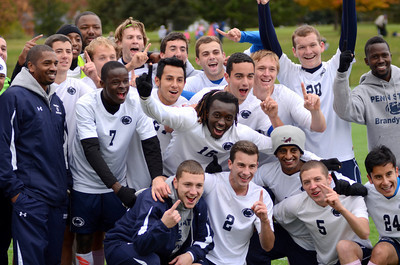 Brandywine Athletic Director Jim Gastner is thrilled to see the team succeed and credits much of their success to Scott Spangler, the new head coach.
"Scott has done an amazing job. I don't think I've ever met a coach as calm as Scott. He is incredibly focused and very professional, the students really respect him," Gastner explained. "The team went through the playoffs without a hiccup ? it has just been a real joy to watch them play."
Spangler joined Brandywine as the head coach of the intercollegiate men's soccer team in June 2013. He started his soccer career as a player at Strath Haven High School, where he was team captain and was named "Delco Player of the Year." 
"As head coach, it is a great feeling to watch your team succeed," Spangler said. "It's been our goal to put a banner up by winning the conference ? we are committed to make it a tradition."
Brandywine sophomore and Chester native Bill Walleekendeh had an outstanding showing throughout match. The forward scored three goals for the Nittany Lions, completing his fourth hat trick of the season. "I feel honored being a part of this team," Walleekendeh said. "We play not only for the school, but also for one another." 
The Brandywine squad moved on to represent the PSUAC at the United States Collegiate Athletic Association (USCAA) Championships, which began on Wednesday, Oct. 30, in Charleston, W. Va. After a hard fought battle, Brandywine fell to the University of Maine at Machias, with a final score of 6-1.