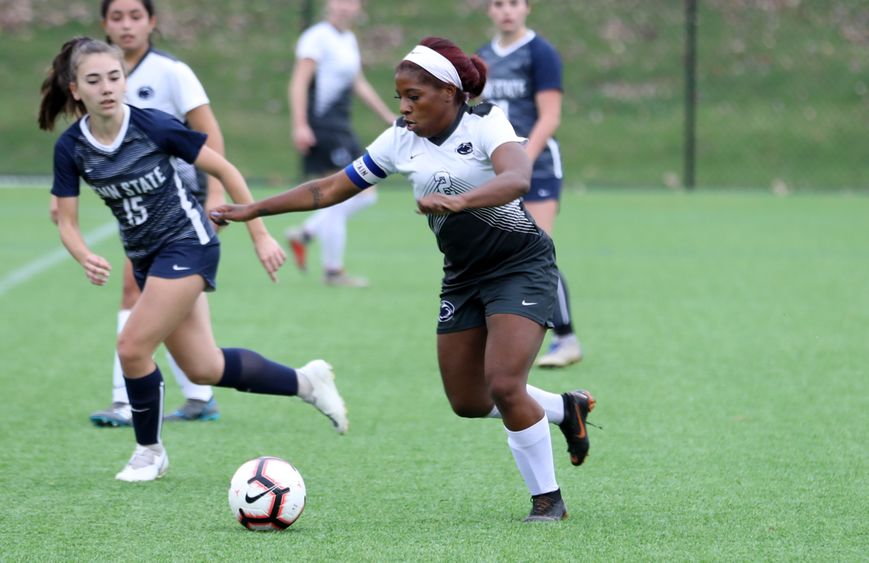 MEDIA, Pa. — Penn State Brandywine senior women's soccer student-athlete Brianna Banks and sophomore cross country student-athlete Catharine Mooney recently were both named to the Philadelphia Inquirer Academic All-Area Team.
Banks was one of 11 women's soccer players from the more than 30 colleges and universities in the Philadelphia metropolitan area selected and one of five repeat honorees after earning a spot on the 2018 team.
Following a standout career on the soccer field, Banks will be graduating from Brandywine on Dec. 20 in just three-and-a-half years with a degree in human development and family studies. Earlier this fall, she was named to the United States Collegiate Athletic Association National Academic Team for the third time and is also a three-time Penn State University Athletic Conference All-Academic Team recipient.
Banks left a lasting mark on the women's soccer program during the last four seasons, becoming the campus' first-ever USCAA National Player of the Year after leading the Association in goals (40) and points (84) in 2019. The only four-time USCAA First Team All-American from Brandywine, Banks became the second PSUAC student-athlete to land player of the year honors in four consecutive seasons.
In 64 career matches, Banks averaged nearly two goals and more than four points per game with 119 career scores and 262 total points.
This fall, Mooney made history by becoming Brandywine's first-ever PSUAC cross-country champion when she won the women's 6K title at Norlo Park. During the race, Mooney set the program's 6K record, which she then broke two weeks later at the United States Collegiate Athletic Association National Championship, posting a time of 24:28.
In addition to being the PSUAC individual medalist, Mooney became the first all-American in the history of the women's cross country program, earning second team recognition, after finishing 14th at the national championship race in Virginia Beach.
A three-time PSUAC Runner of the Week this fall, Mooney also secured the team's 5K record, posting a time of 21:38 at Lebanon Valley's Dutchmen Invitational in September. She claimed individual medalist honors at Brandywine's home invitational, while placing third at Delaware Valley and eighth at Goldey Beacom.
Mooney, a two-time First Team All-PSUAC runner, was named to the USCAA National Academic Team in November and is a two-time John Fritz Sportsmanship Award recipient who owns a 3.81 grade-point average as a kinesiology major.
To be eligible for Philadelphia Inquirer Academic All-Area honors, a student-athlete must be in at least his or her second year at the institution and hold a cumulative grade point average of 3.20 or greater, while also succeeding athletically. Student-athletes are selected through voting by the more than 30 institutions in the Philadelphia metropolitan area.