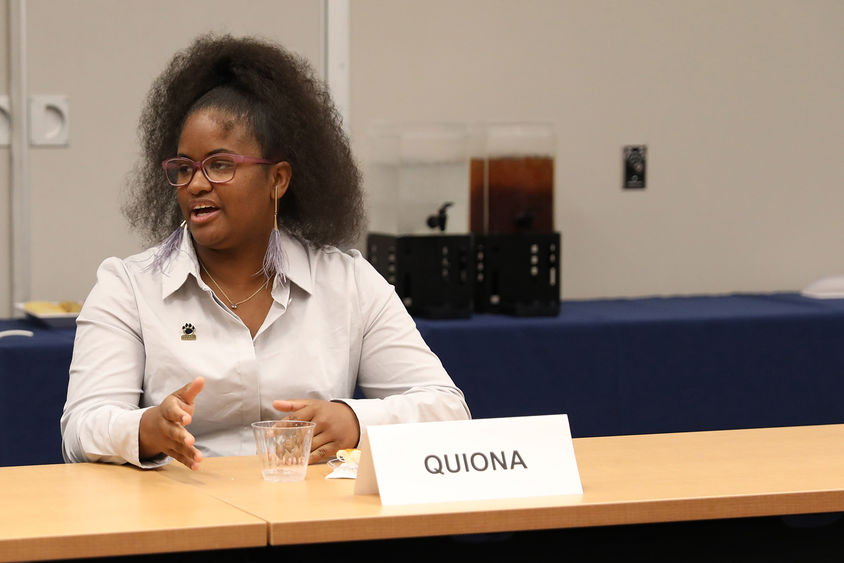 Working with Penn State Brandywine's Center for Ethics and Civic Engagement, senior psychology major Quiona Sephes has put her commitment to serve others into practice. She has made an impact through her work with several community-based organizations that reflect her interests, one of which is encouraging youth to pursue educational opportunities.
Sephes, who is also working toward a minor in civic and community engagement, has been a program support intern for the center since January. In that role, she supports the logistics of the center's programming, staffs promotional and event tables, and serves as an organizer for service projects. She also helps coordinate collaboration between the center and the campus' Civic and Community Engagement Club, which she helps lead as vice president.
Through opportunities coordinated by the center, Sephes has focused her energies in Chester, an economically challenged community where she lived from fifth through eighth grades. 
"Being involved is important to me because I was once from that area," she said. "I'm trying to spread my knowledge to others and trying to do more. It makes me feel good. I want to get people out of their comfort zone and make sure kids are knowledgeable about their options."
"Quiona is one of the most conscientious, kindhearted, altruistic people that I know," said Vippy Yee, Rosenberg Director of Brandywine's Center for Ethics and Civic Engagement. "This work gives her an opportunity to live out those aspects of her character, connects her with community partners and allows her to grow both personally and professionally."
"Quiona has given me a lot of encouragement that the work of the center can deeply impact students," Yee added. "And I personally have so enjoyed working with her and mentoring her over the last year. She's a wonderful ambassador for the center both on and off campus."
In the spring semester, Sephes was a site director for Let's Get Ready, an SAT-prep and mentoring program for high school students. She mentored students and monitored attendance.
"We talked with the students to see how they were doing in the community and what kind of issues they were facing," she said. "We talked about our experience in college. I felt I was able to connect with the students because I lived in that area. I want more of them to further their education."
When she finished her duties at Let's Get Ready, she went to another site where she tutored fifth graders who were part of the Chester Cheetahs Track Club, helping them with their homework during breaks in practice.
This semester, Sephes is working with the Chester Housing Authority on a project to encourage community members to use less plastic, especially single-use plastic bags, and instead use reusable bags.
"We want to educate the community because most people don't know there's a trash processing facility right in the city and the asthma rate of kids in the area is increasing," she said. "We want the community to be more aware. Right now, we're just getting started so it's more research based."
She is also looking into working with the Chester Education Foundation to continue her mentoring activities, with a focus on the challenges young people face in their communities.
When U.S. Rep. Mary Gay Scanlon recently visited Brandywine, Sephes told the congresswoman about her many activities in Chester. Scanlon was impressed by her accomplishments and said she'd like Sephes' input on ways to encourage Chester residents to participate in the 2020 census.
In recent months, Sephes attended the Penn State summer leadership conference and the Pennsylvania Conference for Women, both of which she found informative and motivating.
"It was eye opening to hear other people's perspective on how they are as a leader," Sephes said. "It made my leadership skills stronger. Hearing the speakers at the women's conference, it inspired me to do more and to be more vigilant and involved."
For her work with the center and the Chester Housing Authority, Sephes has been able to earn compensation through the community-based federal work study program, which the center brought to campus. She also volunteers to help at almost all of the center's service projects.
"In addition to getting our own students excited, she often brings her family members to these volunteer events," Yee said. "That's an important aspect of this work. The relationships we develop with students extend to their families and it means their families are much more supportive of their time here at Brandywine."
Sephes plans to complete her degree in May, then pursue graduate studies in applied psychology while continuing her community activities and her service as a mentor.
"I want to do more in the community and continue to work in Chester with the people I'm working with now," she said. "I also want to come back to Brandywine and encourage more students to get involved in civic engagement."