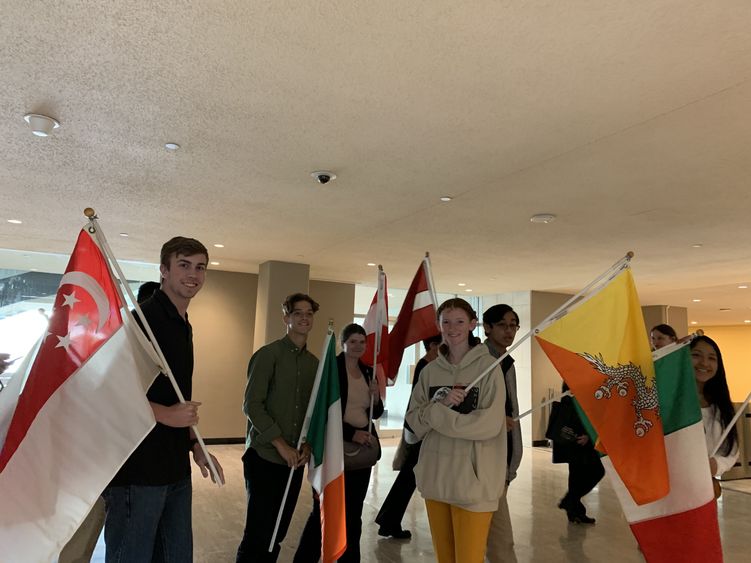 MEDIA, Pa. — For nine Penn State Brandywine students studying civic engagement, New York City became their classroom for a day as they attended the United Nations International Day of Peace Student Observance on September 20.
According to the United Nations, the theme of this year's International Day of Peace was "Climate Action for Peace" in order to draw attention to the importance of combatting climate change as a way to protect and promote peace throughout the world. About 700 high school and college students participated in the event, which was held at the United Nations headquarters and included youth participating via videoconference from the UN Mission in Kosovo.
Representing Brandywine were Professor of Education Lynn Hartle and students in her two sections of Foundations: Civic and Community Engagement, which includes a focus on the United Nations' 17 sustainable development goals.
"Youth had a real voice."
Students attending the observance were asked to plan a project on the theme or commit to an action they will take to promote peace in the coming year if they have not done so already. Ten projects selected from around the world were presented.
Brandywine students are completing a project as a class assignment. They are planning a peace research project and committing to engage with a community organization, campus organization or world organization to combat climate change and promote peace in their school and community. Projects include campaigns to raise awareness, educational programs and promotion of sustainable lifestyles, environmentally friendly practices, renewable energy and nature conservation.
"Students in the class are completing their projects over this one semester, but an aspect of the project includes their vision and plan for how to continue the action steps and continue to achieve these sustainability goals," Hartle said. "Some of the student projects include waterway clean ups in their own community, composting initiatives on campus and supporting local food production in urban areas."
"While students can learn through peers and professors in college courses, the opportunity to hear what other youth in the world are doing to combat climate change at the United Nations was so inspiring," she added. "Youth had a real voice at the International Day of Peace Student Observance, and the dignitaries were listening."
The United Nations day began with a procession of national flags, with Brandywine students carrying flags from various countries. The program that followed included a panel discussion, a presentation from a youth group from Kosovo and a musical performance by Yo-Yo Ma.
"We should all be doing a lot more."
Brandywine freshman Mab Rongione made the trip a full day in New York, attending the UN observance in the morning and staying in the city for the climate strike in the afternoon.
"It was really interesting to be at the United Nations and see so many students from other schools," she said. "I really didn't expect to see so many younger kids there."
A highlight for Rongione was hearing Greta Thunberg, the 16-year-old Swedish climate activist, speak at a rally held in Battery Park as part of the New York City climate strike.
"Greta was fantastic. I've seen videos of her, but just being there and hearing her speak was incredible," Rongione said. "She had a lot of really interesting things to say, and her ability to stand up there and speak like that was really impressive. I felt really inspired by her."
"It was really cool to see how many people were there, and all the creative signs they had," she added. "And it was cool to see so many kids there with their parents. People were just really passionate."
For Rongione, the civic engagement class and the day in New York have contributed to her own reflection on two important questions: what is the role of individuals versus large organizations when it comes to sustainable practices, and is some environmental damage irreversible?
"I sometimes wonder if we've done too much damage already, or can we undo it?" Rongione asked. "When I'm an adult, is it going to be a lot worse?"
"I don't do as much as I should be doing and I feel we should all be doing a lot more, but I'm also a big proponent of the idea that individuals alone can't solve these problems," she said. "We have to look at bigger corporations and we have to look at the big picture. It's important to show the world we mean business. I hope people will be inspired to do more."