It was only a few months ago that senior psychology major Megan Draper left her hometown of Springfield to seize an opportunity that few college students get. The Penn State Brandywine student recently traveled to distant areas of the tropical rain forest of Borneo, taking part in a seven-week research journey alongside leading experts. 
Draper departed for Borneo, in Southeast Asia, at the end of September with the Orangutan Tropical Peatland Project (OuTrop), which strives to safeguard several of the most significant areas of tropical rain forest in Borneo, using research and conservation solutions to achieve their goals. One of OuTrop's main objectives is to better understand the wild population of primates in the region, such as the orangutans, red langurs and Bornean gibbons. 
During her journey Draper was able to assist the scientists with field research they were conducting, gathering information about the surrounding ecosystem. Her responsibilities changed daily, as she was involved in a variety of different tasks.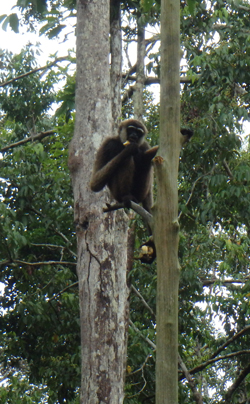 She assisted the scientists as they took measurements of specially tagged trees that were known to be primate feeding and sleeping trees and was even able to go along on early morning hikes in the forest called "behavioral follows." These follows were done to better understand the nature of the orangutans and gibbons in the region. Draper explained that she was not able to collect data during these follows since much more experience was required, but being close to the primates was a great experience.  
"Orangutans are one of the few great apes left in the world. If we were to lose any of the apes in the wild, we would lose a key part of the evolutionary history of humans," Draper said. "Part of the problem is that the region is developing very quickly. Even though that's good, there needs to be a balance. It is developing in a way that is ultimately unsustainable for the animals but also for the humans."    
Draper was also able to assist with research on other animals and insects of the rainforest, such as butterflies and wild cats in the region. She and fellow researchers set camera traps, which are motion detection cameras used to examine elusive animals, such as the clouded leopard.
"It's about the conservation of a very unique ecosystem," she said. "A lot of the data is collected to try to gauge the overall health of the ecosystem."
The trip to the remote base camp was quite the experience itself, starting with two long plane rides to arrive at the small airport in Borneo. From there, Draper and the other volunteers were picked up in a vehicle and driven to a nearby river dock. The team then boarded a klotok (river boat), which floated them downriver to another vehicle, eventually dropping them off at base camp.
The research facility where Draper stayed certainly wasn't an extravagant living space, but it had the basic necessities required to endure. She slept on the floor on a small mattress and made sure to bring along a mosquito net to keep away insects and other critters while sleeping. The building had very basic plumbing, and she explained that not having hot water wasn't all that bad due to the high temperatures and humidity in the rain forest.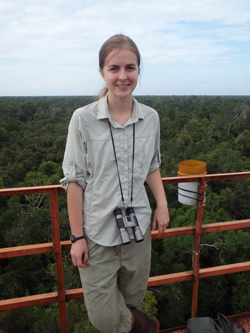 "It was definitely roughing it by Western standards," Draper explained. "It was a comfortable base camp, I wouldn't say anything negative about it. It was part of the experience ? everybody I met there was great. I got to work with some really nice people who truly cared about research and the ecosystem."
This opportunity is part of Draper's honors research project and will be the topic of her senior thesis. She earned 12 credits during the excursion and was required to complete coursework before and after the trip.
She explained that Brandywine helped her not only prepare for her role with OuTrop, but gave her a sense of what she wanted to do after graduation. "The help that Brandywine gave me was crucial to the whole trip," she said. "Being at Brandywine helped me realize that I could research these animals and their habitat. When you're at a smaller campus you have so many opportunities to tailor what you're studying to your interests."  
Draper will graduate from Penn State Brandywine in May and plans on attending graduate school. Ultimately, she hopes to pursue her passion and work as a field researcher, helping people better understand these extraordinary animals. 
"There is a high rate of deforestation in Indonesia right now and there's a very real possibility that some of these animals will go extinct in our lifetime. It's a pressing issue, especially once you've gotten to see these animals up close."