The national award is given annually on the works of novelist Anthony Trollope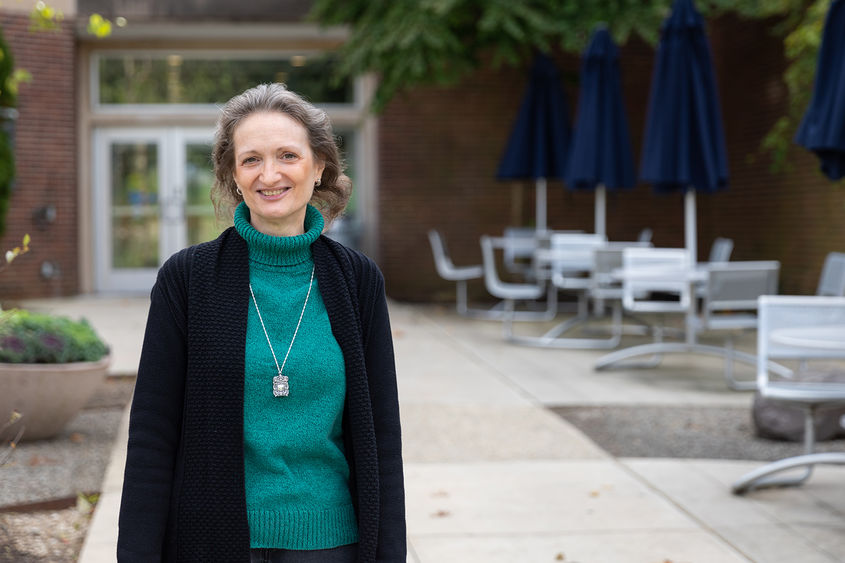 Penn State Brandywine student and English major Nyssa Fahy is the recipient of this year's undergraduate Trollope Prize.
The Trollope Prize, one of very few national awards in Victorian studies, is awarded annually to the best undergraduate and graduate essays on the works of novelist Anthony Trollope.
Historically, graduate winners have come from universities like Brown, Duke, Stanford and Columbia, while undergraduate winners have come from the College of William and Mary, the University of Washington and the University of Toronto. Some years, no award is given if the submissions aren't considered up to par.
In announcing Fahy's award, the judging panel – which included accomplished critic and author Mary Poovey – wrote, "Judges were unanimous in selecting this sharp and sophisticated essay for the prize, praising its deft handling of a complex range of materials."
Fahy is credited with "finding gold" where few other scholars have looked before. Her piece, titled "A Less Beaten Path: Hybridity and Naturalism in Anthony Trollope's West Indian Short Fiction," is both fresh and timely in its discussion of race and colonialism.
"It gives you an utterly different lens. It's something that had just been ignored and I wanted people to look at it," said Fahy.
Trollope is considered one of the most unjustly neglected writers of the Victorian period. The Trollope Prize, sponsored by the University of Kansas, was established to promote the study of his work.
"Trollope writes these sort of cozy little marriage plots about very typical English people who are doing very typically English things and are given very safe, happy outcomes. With a stereotype like that, it's really easy to overlook and diminish his ability."
By exploring Trollope's short fiction, which more openly depicts the brutality of British life in the colonies and specifically the West Indies, Fahy gained a new perspective on the "cute realism" that's characteristic of Trollope's more celebrated works.
Beth Coggin Womack, associate professor of English and Fahy's adviser for the project, said Fahy's ability to suspend her own judgement is part of what makes her a great critic.
"She's not so absorbed in one interpretation of the text. She's constantly weighing multiple interpretations and making very judicious decisions about them," said Womack. "That's what you want out of a really mature reader, but we usually don't see that until someone's in the upper levels of graduate school. She's doing that in an undergraduate classroom in a way that's inspiring everyone else in the room, including me."
Nontraditional student impacts others
And Fahy's influence extends well beyond her scholarship. As a returning student, she's modeling the way for her classmates.
"When I see Nyssa in the classroom with students who are traditional college-age students, she is so warm and friendly and encouraging with them," said Womack. "She is such a great model for somebody. I would love to have more adult students who would feel confident that they're going to be part of a classroom, but they're not going to be asked to pretend like they're 19 years old."
In 1980, Fahy began her studies at University Park. After nearly four decades, she returned to Brandywine to finish her degree.
"I was never not interested in English literature. My goodness, I loved to read when I was a child. I loved discovering things in books. I found it a very interesting gateway to places that I couldn't otherwise go and that could be temporal or physical or a hundred percent imagination," she said. "There was no choice. I'm coming back to do what I love."
From start to finish, the project took Fahy a year to complete. She said the process – from reading many of Trollope's novels and stories and decades of subsequent criticism, to writing more than a dozen drafts of her essay – was a learning experience.
"It's like a 2-year-old. It will take everything you can give it and it will look for more," she said. "You have to learn how to be comfortable with getting an idea at 3 a.m. or working late and working early and getting your family to support you, which they all did."
Fahy also credits her success to Womack, who she said was unfailingly supportive.
"She is just so gifted at helping people find what they are good at and running with it and making them feel good and positive about what they can do. I absolutely could not have done it without her," said Fahy.
Likewise, Womack she said never had any doubts that Fahy could win.
"I'm just so thankful that that she was willing to do it, and I'm really thankful that scholars in the field have had a chance to see what someone from a place like Brandywine can do," Womack said. "There are a lot of people out there who would contribute to these conversations if those conversations were more accessible."
Fahy's essay will be published in the Fortnightly Review. For more information about the Trollope Prize, visit http://trollopeprize.ku.edu/.