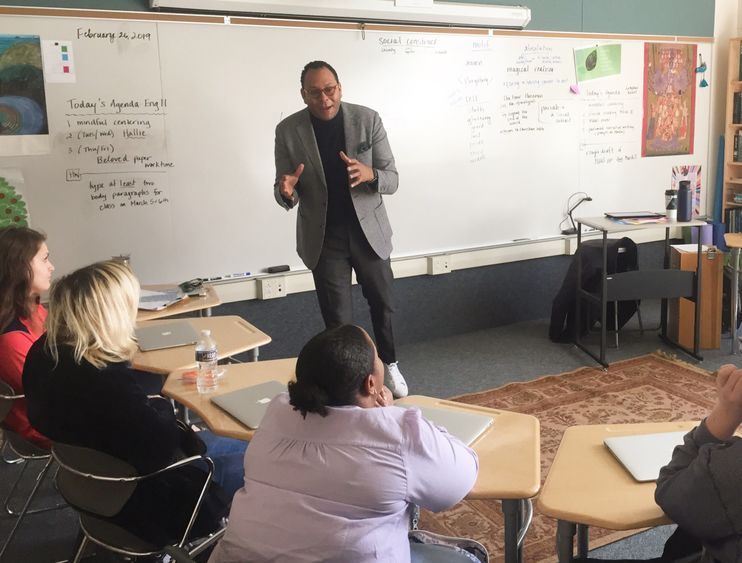 MEDIA, Pa. — Alumni play an essential part in the Penn State Brandywine community, and some even find their way back to the campus as employees. Four Brandywine alumni shared their journeys from student to staff and how their jobs are contributing to the campus culture.
Jeremy Branch: Admissions
When Jeremy Branch was first applying to colleges, being a Penn State student wasn't even on his radar. Now the assistant director of enrollment management, Branch is one of the first people prospective students meet, and he's the reason why many students choose to attend Penn State Brandywine.
"My favorite part of my job is the students. Students and parents," said Branch. "No one can say anything negative to me about the current generation of students. I read their applications, I meet them — they're amazing. The things they're doing and the conversations they're having at this age were things I was never thinking about."
Branch, who started as a student in fall 2002, was originally a business major.
"I was grasping at things just to tell people I had a major, but I figured out really quickly 'That's not it,'" he said. "And so I met with my adviser, Barb Daniel, and she asked me 'What do you like to do?' She was probably the only person in my life who asked me that."
More conversations with his adviser and a few favorite faculty members eventually led Branch to major in communications. After graduating in spring 2006, he worked briefly in the pharmaceutical industry and then for Enterprise. But it wasn't long before Branch found his way back to Brandywine.
"I was going to start my first day at Enterprise and then I got a call from this campus," Branch said. "I started here in January 2007 as an admissions counselor and haven't looked back."
Now, Branch is paying it forward by helping guide prospective students and their families through the college admission process.
"Holding their hand, so that collectively they can make the best decision for them — and helping them arrive at and be settled on that decision and enter the next phase of their life. That's what gets me up," he said. "You get to make a real impact in the lives of others by doing this work."
Branch was recently elected to serve as president of the Pennsylvania Association for College Admission Counseling and will represent Penn State at the national level by meeting with legislators in Harrisburg and Washington, D.C., to discuss college advocacy and access.
Bobbi Caprice: Athletics
As Penn State Brandywine's athletic director, Bobbi Caprice oversees 16 varsity programs, 10 head coaches, about 35 assistant coaches and 190 student-athletes — and that's not all.
In addition to leading the largest athletic department in the Penn State University Athletic Conference, Caprice also manages the campus' student recreation, including intramural sports and the fitness center.
"If someone had told me when I was graduating that in six years I would be where I am today, I never would have believed them," said Caprice, who began her journey as a student in fall 2009.
As a human development and family studies major and student-athlete, Caprice also worked part time giving tours to athletic recruits. By December 2013, the position evolved into a full-time opportunity, and by 2015 she was promoted to assistant athletic director. After two interim terms as athletic director, Caprice officially earned her current title in November 2018.
"I tell students all the time that every day is an interview," she said. "Because of our size, and because our campus is so close-knit, you get to know everyone you work with. Most people don't have that opportunity."
While she no longer recruits in an official capacity, working with students is still Caprice's favorite part of her job.
"I love supporting our student-athletes, whether that's out on the field saying, 'Go get them. Work hard,' or in my office when a student says 'I'm confused about my major' or 'I'm stressed about playing sports,'" she said. 
Despite working some 70-hour weeks and juggling "sweatpants and suits," Caprice remains focused on the future.
"The dream is to provide our student-athletes with the best facilities, the best playing experience, and to have a 100 percent graduation rate," she said. "I firmly believe that we are offering such a unique opportunity for students to get a Big 10 education in a small-class setting and join the largest alumni association in the world. That is so special to me, because I'm an alum and I believe it."
Mike McDade: University Relations
For Assistant Director of Marketing and Communications Mike McDade, working at Penn State Brandywine was an easy decision.
McDade, who interned in University Relations while studying business, said the experience made him well-equipped for the opportunities ahead.
"I had a lot of responsibility, especially early on," he said. "There was this trust because I was previously an intern. I felt that if I went to work somewhere else right out of school, I wasn't going to be doing the level of work that I was already doing here. I knew this is where I could gain the most work experience."
After his internship ended, McDade was offered a part-time marketing position, and eventually a full-time opportunity where he split his time between Penn State Brandywine and Penn State Great Valley.
While working at Great Valley, he led a major website migration — one of the highlights of his career — and also served as the campus webmaster.
Now exclusively at Brandywine, McDade is an integral member of the marketing team. He oversees the campus' visual branding, from photography and videography to social media and news articles.
The fact that every day is different is what McDade said keeps his job interesting.
"At a bigger institution or company, your job might be kind of siloed, and here it's not," he said. "One day I could be off campus getting photos of an intern, or I could be here in my office interviewing a student for a story, or I could be on campus taking photos of an event."
Outside of his office, one rarely sees McDade without a camera in hand. He shared that his passion for photography, which began even before his time as a student, has helped fuel his work.
"Just being able to do something that I enjoy outside of work and turning it into something that I get paid to do was a lot of fun," he said.
Today, McDade is sharing his expertise with current students by serving as the adviser for the campus' Photography Club.
Maryam Khan: ITS
Maryam Khan, IT support specialist, learned the value in helping others firsthand as an intern.
"When my family came from Pakistan, I really struggled with English and I never thought I'd work in the education field," she said. "But when I got my internship, Scott Schmoyer, our IT support specialist, was so supportive and knowledgeable. I knew that when I graduated, I wanted to work for someone like him."
Khan graduated with a degree in information sciences and technology in December 2018. After working several months for software company iPipeline, she learned that there was an opening at Brandywine.
"My one mantra or code in life is 'Everything happens for a reason,'" she said. "Originally, I didn't want to come to Penn State, but after my internship I was so glad I did. Then when this position came about, I reached out to Scott. He wrote a recommendation for me, and now here I am."
In her current role, Khan is able to return the same kindness by helping others. Her job requires her to help faculty, students and staff troubleshoot a wide range of IT issues.
"Day to day, there are different tasks that come up and I have to address them. It doesn't matter if it's in my job description or not, I just go ahead and take care of it," she said. "I feel like there's so much change, like updates in software, that somewhere people get lost or confused. It makes me feel good to say 'I'm here to help you.'"
Apart from her daily tasks, Khan said her team — from her supervisor, Justin DiMatteo, to her office mates to the ITS student workers — makes her job enjoyable.
Now, Khan is contributing to the same culture that she's grown to appreciate.
"I love how friendly, warm and professional everybody is," she said. "I think that's really important — it makes you want to give 100% and make others feel like you've helped them."