One year of planning, hard work and fundraising culminated on Sunday evening after 46 hours of non-stop dancing. Penn State's 42nd annual dance marathon to benefit the fight against pediatric cancer wrapped up with yet another record-breaking reveal.
Penn State students from across the Commonwealth raised a total of  $13,343,517.33.
This amazing accomplishment is made possible by organizations such as Penn State Brandywine THON. The group of only about 40 students set their own personal record, raising more than $26,000 and ranking No. 10 among all Penn State commonwealth campuses. This marks the first time that Brandywine THON has made the top 10 in a decade.
THON, which is the largest student-run philanthropy in the world, is a yearlong annual fundraising effort that benefits children and their families affected by pediatric cancer. All money raised benefits the Four Diamonds Fund, which supports children treated at Penn State Hershey Children's Hospital.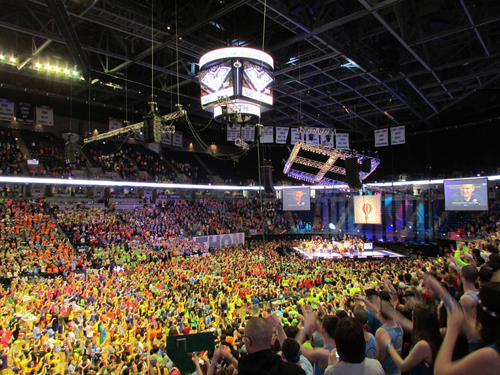 Thousands dance at the Bryce Jordan Center.
(photo: senior corporate communications major and Lion's Eye intern Eric Warner)

"I'm on another level of happiness right now. It's unreal," said Brandywine THON chair Jessica Maginnis. "We've reached such an amazing goal. There are kids who can't be kids and we're here because of that. We're here making a difference for them."
A junior human development and family studies major, Maginnis has been a dedicated member of Brandywine THON for three years and was instrumental in leading the organization to success.
Students Jason Severin and Liz Gramlich had the opportunity to represent Brandywine as dancers at THON weekend, dancing for 46 hours straight up until the big $13.3 million reveal.
Liz Gramlich and Jason Severin proudly raise the Four Diamonds hand signal at the Bryce Jordan Center.
(photo: senior corporate communications major and Lion's Eye intern Eric Warner)

"Wherever you went you could just feel the anticipation of THON," Severin said about the atmosphere at University Park. "The experience as a whole was mind-blowing. You really can't put it into words. It's important to never forget that you're representing your organization, you're representing THON and you're representing a betterment for children and their families."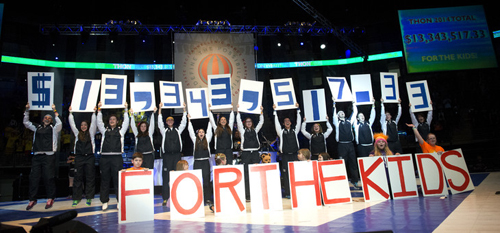 The recording breaking big reveal!
(photo: Annemarie Mountz)
Instructor in Communications Karrie Bowen, who also serves as the adviser to Brandywine THON, is amazed at the level of commitment shown by the group and was thrilled to see Brandywine make the top 10 among commonwealth campuses.
"I have been actively involved with THON now for four years, and every year the dedication by all the students in our organization is just amazing," Bowen explained. "We always have captains that give a million percent of themselves and go above and beyond for the kids and each year I am amazed at the dedication."