Every year, Penn State Brandywine's Commission for Women recognizes an outstanding female student and employee during its annual luncheon by naming them Woman of the Year. The event serves as an occasion for students, faculty and staff to celebrate the accomplishments of women at Penn State Brandywine. 
In the Female Student category, the commission honored Nina Kash, a sophomore education major at Brandywine who passed away in February. Instructor in Communications Karrie Bowen, who also serves as the Women's Commission chair, explained that she received a resounding response from the campus community nominating Kash for the honor. 
"Nina Kash lived a life that showed a desire to consistently immerse herself in every experience that could be offered," said Bowen, as she read a nomination for Kash to the audience. "She happily and enthusiastically embraced all that college handed her. She gave herself fully to all of Brandywine's activities."
Kash's mother, Delores, accepted the award on her daughter's behalf, adding, "Nina would be honored to be receiving this award. She loved Penn State and was proud to be a student at Brandywine."
In the Faculty and Staff category, Senior Instructor in Human Development and Family Studies Kathy Meehan was honored for her contributions to the campus. The award-winning instructor has been a dedicated faculty member at Brandywine since 1999 and also serves as the field coordinator for the human development and family studies program, helping undergraduate students gain professional experience through internships.
"It's our team effort that helps us all be successful," said Meehan after accepting the award. "We genuinely are a collaborative team. We are all there for each other. That's why this campus is so phenomenal."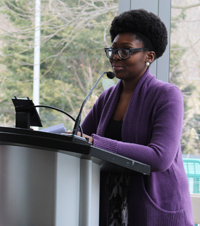 As is tradition, the campus welcomed an accomplished woman to serve as keynote speaker for the annual luncheon. A licensed social worker, Akirah Robinson has several years of experience in counseling survivors of domestic violence and has training in crisis intervention; however, Robinson is currently following a different human services path - helping families prepare for homeownership. A survivor of domestic violence herself, Robinson shared her own story and left the audience with a few words of advice.
"Throughout history, women have gone through a lot of pain," said Robinson. "When I think about all of the injustices that women all over the world have faced and the inequalities we endure, it's plain to me that women know pain. When pain comes your way, as it surely will, I encourage you to lean into it, and let it lead you towards wholeness."