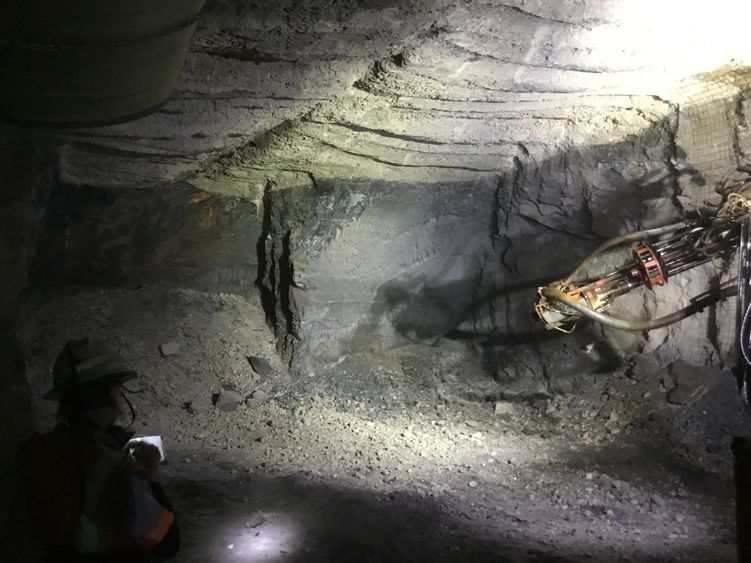 MEDIA, Pa. — This summer, one Penn State Brandywine student struck gold with his internship.
Literally.
Rising junior Samuel Dikeumunna spent 11 weeks at the Turquoise Ridge/Twin Creeks gold mine operated by Nevada Gold Mines near Golconda, Nevada. His daily routine included taking an industrial freight elevator 2,000 to 2,500 feet underground then riding a tractor to his work site, located among more than 10 miles of tunnels.
Once there, he would inspect drilling sites and assess whether extracted material was waste or high-grade ore that contained gold. Rock type, mineralization and fracture were all elements of the evaluation.
"After our assessment, we would tell the mining engineers if they should keep drilling there or stop and move to a different location," he said.
Dikeumunna, who will transition to University Park this fall to complete his degree in geosciences, said the internship was a great educational experience.
"I learned so much," he said. "One of the huge things was safety. Working underground, any little thing can affect you and other employees. Risk management is also important, and planning your day and your schedule."
"I learned so much about geology as a profession, especially when it comes to mining. My career path was to go into the oil and gas industry, but this expanded my knowledge of geology and mining companies and swayed my interest in that direction."

—Samuel Dikeumunna, Penn State geosciences student
"I also learned the importance of teamwork. No one does things by themselves," he added. "Geology works with mining engineers, who work with electricians, who work with explosives teams."
One of his projects involved radio frequency identification (RFID), through which the company tracked various aspects of ore shipments, including time and location of extraction and the ore's destination. Dikeumunna monitored the success rate of the RFID tags and determined if any adjustments were needed.
Edward Tester, manager of mineral resource growth for the Turquoise Ridge/Twin Creeks mine, said the site is one of the top five highest-grade underground gold mines in the world.
"It's a very large deposit and it's a geologically complex deposit," he said. "This is a pretty unique opportunity. For students who come here and it's their first time in a mine, it's definitely a new experience."
Dikeumunna discovered the position after consultation with Brandywine's career services office, where he was referred to a website that listed geology internships. While working at the mine, he lived in Winnemucca, Nevada, located about two and a half hours northeast of Reno —  an adjustment from both the environment and the amenities he was used to in southeast Pennsylvania.
"I had never been to the West and it took a week or two to adapt to the environment," he said. "There were no trees or green grass in sight. Just rocky mountains."
In addition to gaining valuable hands-on experience in their field of study, he and the other interns did have some free time for hiking and mountain climbing and a visit to Lake Tahoe.
"I learned so much about geology as a profession, especially when it comes to mining," he said. "My career path was to go into the oil and gas industry, but this expanded my knowledge of geology and mining companies and swayed my interest in that direction."