Penn State Brandywine celebrated the achievements of its campus community members on Friday, April 11, presenting four esteemed awards to faculty and staff at its annual Faculty Awards Program.
Professor of Chemistry Michael De Rosa was honored with the Faculty Research Program Award, which recognizes the scholarly or creative excellence of a professor at the campus in any area of the social sciences, natural sciences, engineering, business, communication, arts or humanities.
De Rosa has collaborated with undergraduates on research endeavors since 1990 and since then has secured over $700,000 of funding from the National Science Foundation (NSF) for research projects. He also has published 48 articles in peer-reviewed journals, many of which have included Brandywine students as co-authors on the publications.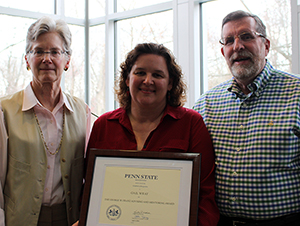 The George W. Franz Advising and Mentoring Award was bestowed upon Academic Affairs Staff Assistant Gail Wray for her excellence in helping others realize and achieve their fullest potential. The Brandywine community knows Wray for her above-and-beyond work ethic, supporting faculty, staff and students on countless levels.
Created in 1998, the Madlyn Hanes Faculty Award recognizes a full-time faculty member at the campus who has made superior contributions to the Penn State Brandywine community through extraordinary research, teaching, creative activity, scholarship or service. This year's recipient was Interim Director of Academic Affairs and Professor of Chemistry John Tierney.
"Throughout his career, Tierney has been a strong advocate for academic rigor and integrity, for the rights of the faculty and for fairness, whether that is fairness for students, staff or faculty," said Associate Professor of English Kimberly Blockett, as she read a nomination of Tierney to the audience.
The Undergraduate Faculty Research Award, presented to an outstanding mentor for their involvement in a student's undergraduate research, was awarded to Associate Professor of Business Julie Stanton, who collaborated with students Yelena Gorelik and Diane M. Paolo in their research undertakings, among many others.
With Stanton's guidance, Gorelik was named as an author in "Making healthy choices:  A look at consumer preferences regarding restaurant menus," published in the "Proceedings of the International Food Marketing Research Symposium." Likewise, Paolo was named as an author in "Information overload in the context of apparel: Effects on confidence, shopper orientation and leadership," published in the "Journal of Fashion Marketing and Management."