Penn State Brandywine presented five prestigious awards to campus staff members, honoring employees for their excellence in service, teamwork, spirit and innovation at its annual Staff Awards Ceremony on Wednesday, April 30.
The Chancellor's Award, presented to a staff member who has displayed exceptional, long-term service and superior performance, was bestowed upon Athletic Director Jim Gastner.
Since joining Brandywine in 2006, Gastner has worked diligently to offer a diverse sports program at the campus. With the inaugural season of women's softball completed and women's soccer set to start in 2015, he continues to ensure gender equality in Brandywine's athletic programs. His main goal, however, is to help student-athletes achieve academic success throughout their collegiate sports careers.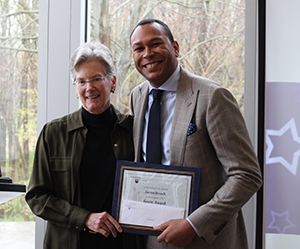 When it came to this year's Spirit Award, the selection committee found not just one, but two honorees. Presented to Assistant Director of Enrollment Management Jeremy Branch and janitorial staff member Alicia Cobb, this award recognizes employees who demonstrate the Brandywine "spirit" by exhibiting a positive attitude, energy, enthusiasm, cooperation and the willingness to go above and beyond.
Before presenting the award, Penn State Brandywine Chancellor Kristin Woolever said that Branch's "positive attitude was contagious," and that "his enthusiasm and passion for the campus are visible in the work he performs every day."
Woolever went on to explain that Cobb lobbied to have several campus building entrances made handicap accessible by installing automatic doors, demonstrating her continuous care for others on campus.
"This employee's suggestions brought about a much-needed physical plant enhancement that benefits the lives of disabled students, faculty, staff and visitors and it warrants recognition," Woolever said about Cobb's good citizenship. 
Assistant to the Chancellor Denise Ripchinski was this year's recipient of the Vairo Service Award for her exceptional service in support of the campus' contribution to the local community.
"[Denise] presents a positive image to internal and external audiences and is involved in a variety of events and activities that involve the public," Woolever explained.
Recognizing a small number of employees who have worked collaboratively in a group, the Teamwork Award was presented to Brandywine's Information Technology Services (ITS) Department, consisting of Director of ITS Justin DiMatteo, Multimedia Specialist Matthew Boyle, Network Systems Specialist Hoi Michael Cheung, IT Project Manager Jim Morgan, ITS Administrative Assistant Theresa Walls and part-time student employees Charles Journey, Hao Phung and Scott Schmoyer.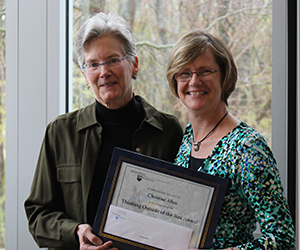 The Thinking Outside the Box Award was presented to Coordinator of Career Services Christine Allen, whose innovative ideas have resulted in a positive impact on Brandywine students and alumni.
Allen is credited with leading numerous networking events that connect students and alumni with potential employers for internship and career opportunities. Recently, she created a new internship preparation course at Penn State Brandywine that ensures all students are equipped with the skill set needed to thrive in an internship setting.