The Council of Undergraduate Research (CUR), a national organization that supports and promotes high-quality undergraduate student-faculty collaborative research and scholarship, has presented Penn State Brandywine sophomore Jonathan Fridman with the 2014 GeoCUR Award for Excellence in Student Research. Fridman is one of only 10 undergraduate students from across the United States to receive the impressive honor.   
Fridman, a petroleum and natural gas engineering major, was involved in research alongside Associate Professor of Earth Sciences Laura Guertin. In spring 2012, Guertin joined the Smithsonian Institution's Global Tree Banding Project, which aims to discover how climate change affects tree biomass.
Guertin, campus groundskeeper Charles Daly, now-graduate Aimee Capuzzi and student Jonathan Spross, who worked on the project before passing it on to Fridman, placed metal bands provided by the Smithsonian around the trunks of 10 different trees on campus. After allowing the bands to settle for several weeks, the team was able to start recording data. 
Fridman picked up where the other student researchers left off. Every two weeks he measured the growth of each tree trunk using digital calipers and also recorded associated information, such as the temperature and precipitation. After hundreds of measurements, the team was able to study the data and discover interesting trends between tree growth and climate.
Guertin and Fridman's research results are being used in a database managed by the Smithsonian to create the first global observatory of how trees respond to climate. 
"It's definitely a very interesting experience," Fridman said. "Seeing the fluctuation in how the trees grow and even shrink in the winter."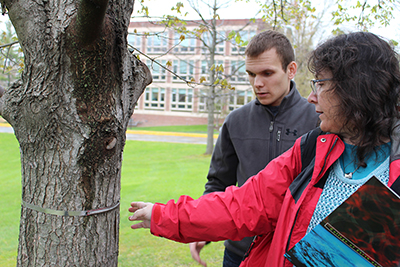 With one of the harshest winters on record, Fridman's work wasn't easy to complete. He had to record information in below-freezing temperatures with at least eight inches of snow on the ground, but Guertin explained that the unforgiving weather conditions never stopped him from completing the task at hand. On several occasions, he went back out into the bitter cold to take additional measurements to confirm his data.
"Professional Earth scientists accept that we need to complete our fieldwork, no matter what the outdoor environment," Guertin explained. "Jon, without any hesitation or complaints, went out in very cold temperatures and trekked through the snow to collect the data on schedule and with the scientific accuracy needed for our research. For a first-time undergraduate researcher doing a field-based project, I could not have been happier with Jon's contributions and work ethic."
Fridman will transition to University Park this fall to complete his degree program, but explained that he'll miss the support that Guertin and Penn State Brandywine showed him along the way.
"It's a big honor, but it's not just me who's been recognized," he said. "This is a great honor for the Brandywine campus. People think that you have to go to University Park to really make a difference. Well, this proves that you don't have to. You can be at any campus and make a difference."