For many college students, the beginning of the semester means crunch time. Late night study sessions, demanding exams and weighty class projects are all high priorities. This was no different for corporate communications major Ashley Piroeff, except for one big detail. This past semester the Penn State Brandywine senior served as the intern event coordinator for Middletown Township, tasked with organizing and executing a large-scale community event.
Piroeff coordinated Middletown Township's 20th annual Community Day, which brings together hundreds of Middletown residents, local government members and businesses for a fun-filled outdoor spring festival celebrating the community. 
She was brought on board three months before the May event, playing a crucial role in the planning process from beginning to end. Piroeff applied skills she learned at Brandywine to real-life situations, getting a taste of what it takes to work in the professional world. She completed various all-encompassing tasks dealing with finance, marketing, communications and management.
Piroeff oversaw the event budget and gathered sponsorships to secure additional funds, assisted with the creation of marketing materials, produced and managed social media accounts, led Community Day committee meetings and directed event volunteers on the day of the event.
"I think it's easy to get involved with a leadership role here at Penn State Brandywine," Piroeff said. "They definitely help you out along the way."
The four-year corporate communications program at the campus prepares students for careers in community relations, public relations and special events planning, which is exactly what Piroeff had the opportunity to do during her internship.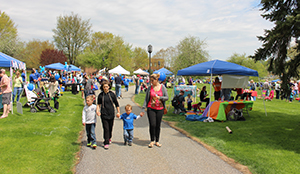 "It was a challenge for me," she added. "I tend to put all my focus into school. So to be able to manage the time and dedication for this internship was something I had to quickly learn."
Piroeff landed the internship not because she was required to, but because she knows that having additional experience before graduating this December will give her an advantage when she enters the job market. She emphasized that getting real-world experience is an essential part of overall career success.
"Diversity is key to being a good job candidate," she explained. "Employers want someone who is well-rounded and has a good personality that works with others. This internship has showed me how to work with all different kinds of people."
Piroeff credits her public relations and communications classes with preparing her for her role with Middletown Township and explained that Instructor of Communication Karrie Bowen was an instrumental part of her success, having helped Piroeff secure the internship.
"Professor Bowen is a great teacher," she said. "She opens her students' eyes to things beyond textbooks that most of us will experience in the working world. To me, that's very important."
As part of her degree program, Piroeff will complete another internship during the upcoming fall semester for college credit. 
Ashley Piroeff discusses her internship with Middletown Township.