Although it was the first time in campus history that Penn State Brandywine fielded a softball team, the Lady Lions certainly didn't waste any time making a big impact on the Penn State University Athletic Conference (PSUAC).  
Three years ago Athletic Director Jim Gastner put a plan in motion to build a softball program at the campus from scratch. He knew that adding the spring sport would be a perfect fit for Brandywine, allowing greater opportunities for female student-athletes.
One of the first big moves Gastner made was bringing in seasoned Head Coach Mark Caserta to lead the new team. Caserta most recently served as the head coach for Archbishop Carroll High School in Radnor. During his five seasons at Archbishop Carroll, he led the Lady Patriots to the playoffs four times, heading to the Catholic League semi-finals at Arcadia University in 2011. He finished his tenure there with the record for most wins, posting a 66-37 overall record.
"Building a program from the ground up can be very rewarding on many different fronts," Caserta said. "Everyone from players to coaches is part of the foundation."
Tasked with piecing together a winning team in a short period of time, Caserta and Assistant Softball Coach and Recruiting Coordinator Bobbi Caprice hit the recruiting trail, landing five softball recruits from Delaware County high schools. Many of Brandywine's existing female student-athletes who played softball at some point during their sports careers stepped up, filling positions to get the team up and running.
"Being the first year of the program, we heavily relied on girls who primarily played another sport to help fill the team," explained Assistant Softball Coach Christy Overton. "Every girl on the team at some point was a utility player, stepping into positions they historically did not play."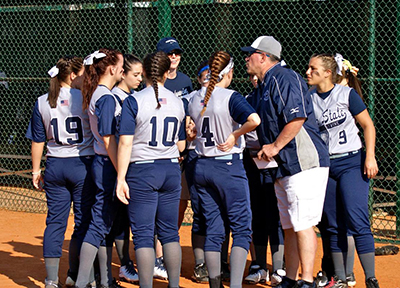 A Texas native, Overton joined the coaching staff primarily to enhance the skills of Brandywine's pitchers and catchers. During her impressive softball career as a pitcher for Texas A&M University, she held a national record for average strikeouts per game.
Plagued with injury early on, the team's only recruited pitcher, freshman Olivia Encarnacion of Glenolden, broke her leg during the squad's spring training. Freshman Cheyenne Murphy of Boothwyn, who was brought on board for her skills in the field and at the plate, rose to the challenge and pitched the entire regular season for the Lady Lions.    
"That's just the type of season it was," Gastner explained. "Although we expected them to limp, they really managed to work their way through. These young women all came together for a common goal to try and reach the playoffs."
And reach the playoffs they did.
"They picked each other up and they all played a part," explained Caserta. "Every game had a different hero. Clutch hits were key down the stretch and we squeezed into the playoffs."
After battling to a regular season record of 12-15, the Lady Lions traveled to University Park, entering the PSUAC playoffs as the sixth seed. Falling short of their goal of winning the conference, the squad won two of their four playoff games, finishing an honorable fourth overall in the PSUAC. 
"It was so exciting and fun to end up being one of the best teams in the league," said freshman Stacey MacArthur of Newtown Square. "Beating some of the best teams gave us a lot of confidence and we played every game like we had nothing to lose." MacArthur had a remarkable season, topping the team in batting average (.489), RBIs (29) and home runs (four). She was also named PSUAC Newcomer of the Year and PSUAC All-Conference First Team.
"It had been a wild ride throughout the season and to make it to fourth place in the conference was more than I could have asked for. I could not be more proud of my team," added team captain and freshman Julia Allman. The Broomall native also won PSUAC All-Conference First Team honors and finished the season with a .361 batting average and 21 RBIs.
With an impressive nine new softball recruits already committed to the team for next season, there's no doubt that Penn State Brandywine's newest sports program is off to an incredible start.