A successful year for Penn State Brandywine sports wrapped up with yet another major accomplishment. For the first time in campus history, Brandywine won the Penn State University Athletic Conference (PSUAC) Chancellor Cup. The cup is awarded to the Commonwealth campus that displays the best overall performance across all 11 sports.
After placing second for the past two years in the Chancellor Cup standings, Brandywine narrowly edged out four-time winner Pennsylvania College of Technology by a score of 62.5 to 60.5. Penn State Mont Alto followed close behind with a 56.5 point third place finish.
Points are awarded to campuses based on the success of each conference team. Teams included in the points system are men's and women's soccer, men's and women's cross country, men's and women's basketball, wrestling, softball, baseball, volleyball and golf. 
"The Chancellor Cup recognizes programs that are competitive across the board," said Athletic Director Jim Gastner. "We have made a conscious effort to build our teams based on the belief that if we bring in good students who are also athletes we will be competitive."
"Accomplishing this truly shows the hard work and dedication in all our programs from the top down," added Assistant Softball Coach and Recruiting Coordinator Bobbi Caprice. "There are some great programs in our conference. It's nice to finally be on their level."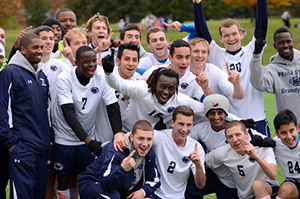 The men's soccer team celebrates on the field at University Park after winning the PSUAC Championship for the first time in 24 years.
Men's soccer started Brandywine's 2013-2014 sports year off with a bang. The Nittany Lions defeated their rivals, Penn State Beaver, and were named the PSUAC Champions. The squad's 5-1 win over Beaver marks the first time Brandywine soccer has won a championship since 1989, ending a 24-year title drought.
To cap off the soccer team's incredible season, juniors Frenc Baro and Bradley Jule and freshman Nabieu Sesay were named to the PSUAC All-Conference First Team. Senior and team captain CJ Gamber won PSUAC All-Conference Second Team honors.
After finishing with an incredible conference record of 17-2, Brandywine volleyball reached the PSUAC finals. Ultimately, the Lady Lions suffered a hard-fought loss against defending champions Penn State Fayette, earning them an outstanding second place finish in the conference.
Sophomore volleyball players Miranda Biondi and Nicole Costa won All-Conference First Team honors. Sophomores Kim Russo and Kelsi Wiest were named All-Conference First Team Honorable Mentions.  
Brandywine's 2013-2014 volleyball team poses on the court.
Likewise, women's basketball finished second in the conference after dropping the championship game to Penn State Beaver. The Lady Lions finished with an excellent 19-8 overall record.
Leading women's basketball through the season was Head Coach Larry Johnson, who for the fifth time was named Coach of the Year. During his eight seasons at Brandywine, Johnson has taken his team to the playoffs every year, winning the championship twice. His overall record is an impressive 145-76.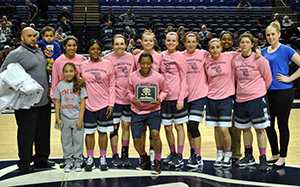 The women's basketball team poses after the PSUAC Championship game versus Penn State Beaver.
Senior Amanda Congialdi was also a big part of the team's success, as she became the tenth Penn State Brandywine basketball player to earn 1,000 points during her four-year career. She is only the sixth female player in the campus' history to achieve this milestone.
In its inaugural season, the Brandywine softball team was able to exceed expectations by placing an respectable fourth overall in the PSUAC. Slotted as the sixth seed going into the playoffs, the Lady Lions battled through the tournament and were able to earn valuable points towards the campus' first-place Chancellor Cup finish.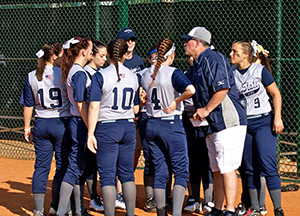 The women's softball team huddles around Head Coach Mark Caserta before first pitch.
Freshman Stacey MacArthur, who topped the team in batting average (.489), RBIs (29) and home runs (four), was named PSUAC Newcomer of the Year and PSUAC All-Conference First Team. Team captain and freshman Julia Allman also won PSUAC All-Conference First Team honors and finished the season with a .361 batting average and 21 RBIs.
Wrapping up the season with yet another second place finish was the men's baseball squad. After finishing the regular season with a 16-6 conference record, Brandywine baseball battled through the playoffs and eventually fell just shy of winning it all.  
Penn State Brandywine baseball during their spring training trip in Florida.
Leading the team on field was junior Gabe Encarnacion. After finishing the season with a .475 baiting average, 34 RBIs, two home runs and 18 stolen bases, Encarnacion was named PSUAC Player of the Year and won PSUAC All-Conference First Team honors."Every team had input into this Chancellor Cup win," Gastner explained. "Every team, player, coach and fan helped us reach this goal."