It's not often you find recent graduates in a college library shortly after graduation. But Pawan Murthy and Anthony Petralla, Penn State May 2014 graduates, are in the Vairo Library at Penn State Brandywine tutoring incoming freshmen through the Campus College Connection Program (C3P).
C3P began in 2010 and is a specialized summer bridge program designed to assist students in the transition from high school to college and address the goals and needs of incoming freshmen interested in science, technology, engineering and math (STEM) majors. The students participate in three programs: Workshop Mondays, LAUNCH and S.O.A.R. 
Workshop Mondays are taught by Brandywine's biology, chemistry, computer science, engineering and mathematics faculty and allow the students to hear about the major and learn what skills are necessary to achieve success. 
The second part of C3P is LAUNCH, a summer enrichment program providing individualized academic preparation in math, writing and academic study skills.
"Each student's daily exercises are tailored to their strengths and weaknesses," Janeen Madison, STEM Lab coordinator at the Brandywine campus, said. "Every student has a different packet of work to do each day with a tutor."
LAUNCH tutors are usually upperclassmen. Each tutor must go through an interview process, provide faculty recommendations and maintain an A average in the subject they plan to teach. This year proved to be a little different though when Murthy and Petralla, participants of C3P in its inaugural year on the Brandywine campus, contacted Madison to tutor the incoming freshmen this summer. Both agreed taking six weeks during their summer to tutor is "enjoyable" and "rewarding."
"I enjoy seeing them [the students] understand something that they didn't know before," said Petralla.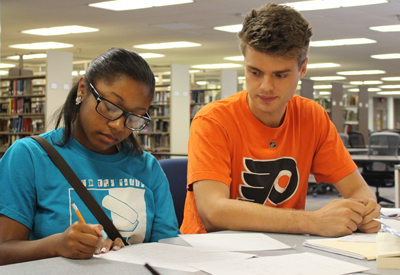 Anthony Petralla (right), May 2014 Penn State graduate, returns to Brandywine to tutor students through the Campus College Connection Program (C3P). Petralla will begin work at ArcelorMittal as an associate engineer in the fall.  
Both graduates transitioned to University Park after spending two years at Brandywine and have accepted jobs they will begin at the end of the summer. Petralla will be an associate engineer at ArcelorMittal and Murthy will participate in the Engineering Leadership Development Program at Lockheed Martin.
The C3P summer program has been funded all five years by a National Science Foundation grant, awarded to University Park with a portion of the funds distributed to the Brandywine, Greater Allegheny and New Kensington campuses. The program maintains successful retention rates. According to the Toys'n MORE (Mathematical Options for Retention in Engineering) final report, the summer bridge program's "'true' retention rate in engineering for the 2010 and 2011 Campus College Connection cohorts lies between 53 percent and 64 percent, which all exceeds the average year-three retention rate in engineering of 42 percent by more than 10 percentage points."
In addition to the academic preparation students receive at C3P, the program also provides students the opportunity to form learning cohorts that provide academic support and personal encouragement during their freshman year. This builds their confidence on campus and in the major and also increases retention in the STEM majors.
"The program provides students with hands-on activities," Madison said. "Being involved in C3P gives them a connection that they didn't have before."