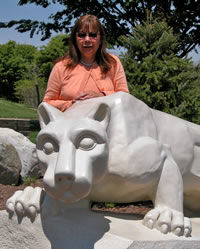 25 Yearsley Mill Road
Media, PA 19063
Biography

Sandra M. Lawrence received her B. A. in Spanish Language and Literature, and Minor in Italian, from Widener University, and her M. A. in Spanish Language and Literature from Villanova University. She was born in Costa Rica, and grew up there.

Ms. Lawrence has over twenty years experience teaching Spanish as a second language. Teaching Spanish has taught her many valuable skills and insights, including how important it is for the student to become aware of the diversity of Hispanic cultures, and the ways in which those cultures are similar to, and different from, one another. She also has acquired valuable experience in current methodology of second-language acquisition, which is as important as instruction in the foreign language itself. In addition to teaching Spanish and Italian languages, she also has academic interest in Mayan literature, culture and linguistics.

Ms. Lawrence has also had several years experience advising and encouraging students from Penn State Brandywine who volunteer in the Outreach Program for Spanish-speaking immigrants living in Kennett Square, PA. This program is designed to teach English as a second language to these seasonal migrant workers. In addition to teaching, the students themselves learn and form relationships with the workers, discussing their customs, problems and customs.

Outside of class, Ms. Lawrence enjoys going canoeing at Jenny Lake (the Adirondacks), and visiting the art museums and other cultural venues in Philadelphia, Washington D.C. and other urban centers.