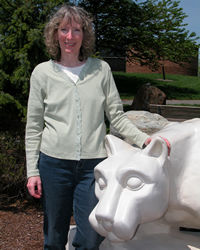 25 Yearsley Mill Road
Media, PA 19063
Biography

Maureen Fielding received her B.A. and M.A. in English with a concentration in Creative Writing from Rhode Island College, and her Ph.D. from the University of Massachusetts. Her scholarly interests include the impact of trauma, post-colonial women's literature (especially writings of Bessie Head, Anita Desai, Le Ly Hayslip), creative writing, and service learning in professional writing courses. She received a Rockefeller Fellowship for work on Hayslip's writing and humanitarian projects in Vietnam. Her publications include articles on Head, Hayslip, Joseph Conrad, Nadine Gordimer, and the Zimbabwean film, Flame, as well as fiction and poetry. She also works on Irish literature and has taken students to Ireland for an International Studies course, and she coordinates the Women's Studies Minor. Professor Fielding is a Philadelphia native who spent 25 years traveling the world and the United States before ending up back in the Philadelphia area. She's lived in Belgium. Austria, Germany, and Korea, and visited many other countries in Europe, Asia, and Africa, and she now teaches about the world she's seen in her literature and women's studies courses. She tries to show her students not only how women writers have depicted suffering in previously colonized countries, but also how these writers have depicted women healing from traumatic experiences.

Professor Fielding has an intimate connection with Viet Nam, as her two sons were born there. She first traveled to Viet Nam to do research on Le Ly Hayslip. Visits to Hayslip's home and the orphanage she built were transformative experiences, and when Dr. Fielding and her husband decided to adopt, Vietnam seemed to be the obvious place.

Professor Fielding also spent three years in the U.S. Army during which time she was stationed in West Berlin. She is currently at work on a novel about the Cold War.

Awards

Penn State Institute for the Arts and Humanities Individual Faculty Grant for research in Berlin, Germany. 2010.

Rockefeller Fellowship. "Culture, Art, Trauma, Survival, Development: Vietnamese Contexts." Joiner Center for the Study of War and Social Consequence. University of Massachusetts, Boston. 2005.
Publications

Fiction

Fielding, M. "Warriors." Marathon Literary Review. Summer 2019.
Fielding, M. "Meeting Mimi." Rubbertop Review. (7) 2015.

Poetry

Fielding, M. "Cold Warrior Matryoshka." War, Literature, and the Arts.. 2019.
Fielding, M. "Vow." Black Market Review. Jan. 2019.
Fielding, M. "Dissertation Workshop." The Avalon Literary Review. Spring 2018.
Fielding, M. "Emilia," "Lawrence's Séance." Pennsylvania English. Winter/Spring 2108.
Fielding, M. "Infarction," "Shooting Star," "Stone Man." Black Fox Literary Review. Winter 2108.

Journals and Book Chapters

"Le Ly Hayslip's Child of War Woman of Peace: An Engaged Buddhist Response to Trauma." Interdisciplinary Literary Studies. 11 (1) 2009: 57-92.

"Trauma, Ngoma, and the Arts: Possibilities for Healing." In Health Knowledge and Belief Systems in Africa. Edited by Toyin Falola and Matthew M. Heaton. Durham, NC: Carolina Academic Press, 2008. 411-425.

"The Bad Old Good Days Come Back: Resonance and Reversals of Heart of Darkness in A Guest of Honour." Journal of the African Literature Association. 1 (2), 2007: 25-54.
Papers and Presentations

Conference Presentations and Readings

"Teaching "Comfort Women" Literature in English: Exigencies, Challenges, Compromises, Solutions"
ELLAK International Conference on "Nurturing Global Citizens within War and Violence Narratives."
Daejon, South Korea
December 2019

"[T]raveler/without a country:" Wandering Bodies in Patricia Jabbeh Wesley's When the Wanderers Come Home
"Body in Motion, Travelling Bodies" Conference
Université Paris - Paris, France
May 2019

Poetry Reading
Contemporary Women's Poetry Conference
University of Brighton, Hastings, UK
April 2019

"The Ambiguities of Rest and Relaxation for Colonial Subjects: An Indian sepoy's experience of WWI in Mulk Raj Anand's Across the Black Waters"
A Holiday from War? 'Resting' behind the lines during the First World War Conference
Ecole Militaire
Paris, France
June 2018