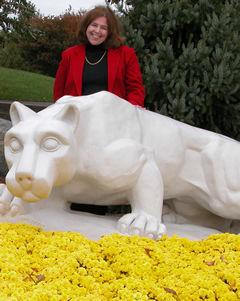 25 Yearsley Mill Road
Media, PA 19063
Biography

Kathleen M. Yanoshak received her B.S. in Business Administration from Villanova University and became a licensed CPA in the state of Pennsylvania. Mrs. Yanoshak is currently pursuing a Master's Degree in Counseling Psychology at Rosemont College and expects to complete this program in April of 2009.

Prior to her appointment as a member of the Penn State Brandywine faculty, she worked in both the auditing and insurance industry. Mrs. Yanoshak has broad- based experience in the accounting field as a financial executive in corporate, non-profit, and municipal entities with a strong data processing background. She is a proponent of the advancement of women in the business world and continues to support and be involved in women's issues and programs.

In addition, she has an avid interest in politics and is the elected Controller of her township. She has two daughters, Erica, who resides in Washington, D.C., and Bianca, who resides with her and her husband, John, in Marple Township.