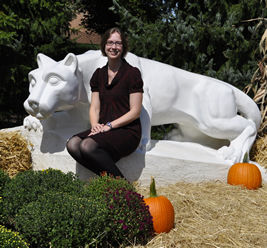 Biography

Elizabeth Coggin Womack received her Ph. D. from Rice University. Her research interests include Victorian literature and culture with a focus on urban poverty and women and gender studies. She especially admires quirky characters and depictions of nineteenth-century material culture, and for this reason, she enjoys the writings of Charles Dickens, Elizabeth Gaskell, Henry Mayhew, and George Augustus Sala. Her current book project, "Alienable Things: The Secondhand Economy in Nineteenth-Century Literature," examines patterns of secondhand exchange in the Victorian novel as a counterpoint to existing literary scholarship on mass production and material culture.

When not writing or teaching, Dr. Womack can be found strolling or biking through the city, digging through dusty antique shops, practicing yoga, or watching really bad television.
Publications

Womack, Elizabeth Coggin. "Window gardening and the regulation of the home in Victorian periodicals." Victorian Periodicals Review 51.2 (2018): 269-288.

Womack, Elizabeth Coggin. "Anticipated Ends, Atonement, and the Serialization of Gaskell's North and South." Dickens Studies Annual: Essays on Victorian Fiction 48 (2017): 231-252.

Womack, Elizabeth Coggin. "Nineteenth-Century Auction Narratives and Compassionate Reading." Victorian Review 43.2 (2017): 229-246.

Womack, Elizabeth Coggin. "Walking as labour in Henry Mayhew's London." Walking Histories, 1800-1914. Palgrave Macmillan, London, 2016. 115-137.

Womack, Elizabeth Coggin. "Victorian miser texts and potential energy." Nineteenth-Century Contexts 36.5 (2014): 565-578.

"'A Pledge out of Time': Redemption and the Literary Pawnshop," Victorian Literature and Culture 40.2 (Fall 2012): 451–67.

"Piercing the Public Sphere: Pompilia's Rupture of the Public/Private Divide in Browning's The Ring and the Book," Victorians: A Journal of Culture and Literature [formerly Victorian Newsletter] 119 (Spring 2011): 110–33.