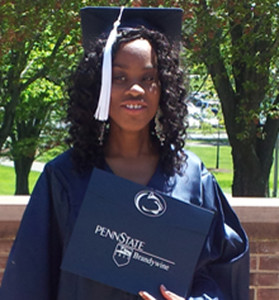 Internship: Brain Injury and Stroke Unit, Magee Rehabilitation, Philadelphia
Penn State Brandywine graduate Sophia Obinyan always knew she wanted to help people when she began her Brandywine career. However, she never imagined she would be working as a brain injury and stroke unit intern during her time as a student.
While earning a degree in human development and family studies (HDFS) at Brandywine she secured the internship at Magee Rehabilitation that would ultimately change her career path.
Located in Philadelphia, Magee Rehabilitation strives to improve the lives of people with disabilities by offering quality physical and mental care, according to its website.
During Obinyan's full-time workweek in the brain injury and stroke unit she had the responsibility of "interacting with patents recovering from both traumatic and non-traumatic brain injuries," she explained. "I would do activities and puzzles with them, which helped with their speech, hand-eye coordination and motor skills."
Working with traumatic brain injury and stroke victims from the ages of 14 and up was a normal day's work for the Brandywine student and became a very rewarding experience.
"I think the internship has given me a sense of direction ... I initially wanted to go into mental health but after my experience there I really want to work in healthcare," Obinyan said.
She credits her coursework and professors at Brandywine with preparing her to perform such a crucial role at the rehabilitation center.
One professor who helped her was Senior Instructor in HDFS Kathy Meehan, who also serves as the internship coordinator for the HDFS program, providing students with real-world experience while studying at Brandywine.
"Professor Meehan helped me discover my passion and my path and what I really wanted to do," Obinyan said. "The early developmental classes in the HDFS major also really helped me prepare for the internship."

When asked about Obinyan's accomplishments on and off campus, Meehan said, "Sophia's openness to change, dedication, effort and caring make her an inspiration for us all ? she is also one of the hardest working students I've known."